Posted June 25, 2018 in
Is It Really Necessary?
The first silicone gel breast implants were placed in the United States in 1962. For the next thirty years, they were the only widely accepted breast implants. In 1992, as increasing numbers of women with silicone gel implants reported autoimmune diseases, such as fibromyalgia and lupus, the FDA placed restrictions on the use of silicone gel implants. In 2006, fourteen years and hundreds of studies later, the FDA concluded that there is no link between silicone gel breast implants and any autoimmune disease.
When the FDA lifted the restrictions on the use of silicone gel, they also engaged in a "butt-covering" maneuver: the FDA stated that silicone gel implants pose no danger as long as they are intact. However, the FDA added that the safety of ruptured silicone gel implants has not been conclusively established.
Intraoperative photos of ruptured silicone gel implants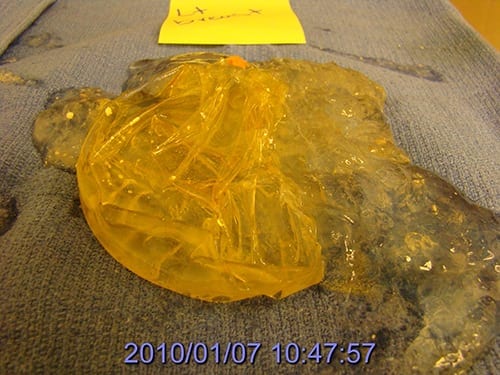 Ruptured Silicone Gel Implant
(Manufactured Before 1992)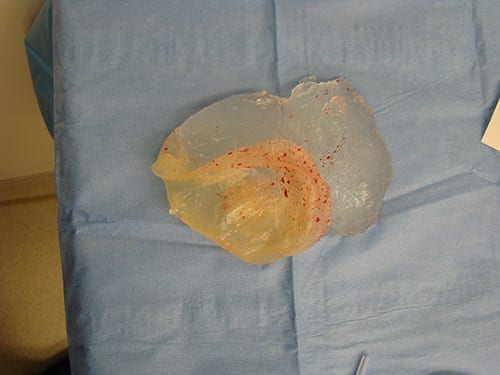 Ruptured Silicone Gel Implant
(Manufactured After 2006)
Accordingly, the FDA currently recommends MRI (Magnetic Resonance Imaging) evaluation of the breasts three years after breast augmentation and every other year following this (i.e. at 3, 5, 7, 9, etc. years after surgery). Given the expense and inconvenience of routine MRIs, only 10% of women with silicone gel implants currently follow the FDA's screening guidelines. Most simply look down every other year and say, "Yep. They still look good."
The real question is how often do the screening MRIs actually detect a rupture? Researchers at Memorial Sloan-Kettering Cancer Center in New York published their data in the Journal of Plastic and Reconstructive Surgery this April. Wang et al. performed screening MRIs on 383 reconstructive breast surgery patients. They demonstrated a total of ZERO silicone gel implant ruptures in 631 implants at 3 years postoperatively. They also demonstrated a total of ZERO ruptures at 5 years postoperatively. Their conclusion: "the net harm of incidental findings, further tests and procedures, patient inconvenience and anxiety, outweighs the benefits of early routine screening." Translation: Routine MRI screening of silicone gel breast implants at 3 years and 5 years postoperatively, appears to be unnecessary.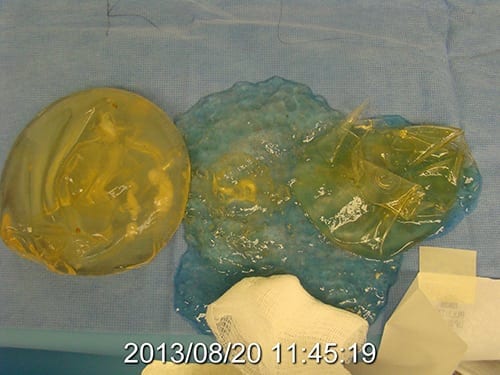 Example of intact implant (left) and ruptured (right) both removed from the same patient during a removal and replacement of her silicone gel implants. The implant rupture was detected during a routine MRI evaluation.
Does this mean that MRI surveillance of silicone gel breast implants should never be performed? Not at all, for the following three reasons:
This study strictly included asymptomatic women. Women with pain, implant deformity, new breast lumps, etc. were excluded from this study. If you have silicone gel implants and are experiencing problems with them, MRI is very effective at detecting silicone gel breast implant ruptures.
This study only offers conclusive data for 3-year and 5-year screening MRIs. Preliminary results suggest a rupture rate of 2.3% at 7 years and 15.1% at 10 years. Silicone gel implants can and do rupture; they just tend not to rupture in the first 5 years.
The FDA-approved manufacturers of silicone gel implants (Allergan, Mentor, and Sientra) offer a 10 year warranty on their products. For example, Allergan (whose implants I typically use) will provide a new implant at no cost to you and will pay most or all of the surgical, anesthesia, and facility costs to replace a ruptured silicone gel implant–provided that the rupture is documented within the first 10 years of surgery.
How will you know whether your implant is ruptured? MRI.
Based upon this information, I recommend the following guidelines for women who have undergone breast augmentation with silicone gel implants:
If you have new breast pain, lumps, or an implant deformity, then appropriate evaluation (which may include MRI) is strongly recommended.
If you are NOT experiencing any breast or implant-related problems:
| | | |
| --- | --- | --- |
| | Projected rupture rate | MRI |
| 3 years | 0% | Unnecessary |
| 5 years | 0% | Unnecessary |
| 7 years | 2.3% | At your discretion |
| 10 years | 15.1% | YES |
I strongly recommend that all women with silicone gel breast implants undergo MRI evaluation before the tenth anniversary of their breast surgery. There is a 15.1% chance that you will have a ruptured implant (based upon the above study) and a 100% chance that the manufacturer will cover most or all of the costs of implant replacement surgery. If you wait more than 10 years and a rupture is detected, the manufacturer will still provide you a new implant. But all other surgical costs will be your problem—not theirs.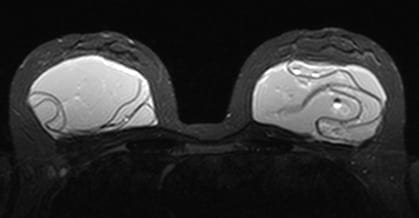 MRI demonstrates the "linguini sign," curving black lines that are characteristic of silicone gel breast implant rupture.