Description
Breast and body contouring after major weight loss encompasses a variety of surgical procedures, performed individually or in combination. Procedures include:
Whether you have lost 30 pounds due to diet and exercise or 150 pounds following a lap-band procedure, congratulations! You probably look far better in clothes. Out of clothes, however, you may see sagging and excess skin in the abdomen, breasts, arms, and/or thighs.
Unfortunately, skin stretch is an irreversible process. There are no exercises, medications, creams, or non-invasive procedures for removing large amounts of sagging skin. The only reliable treatment is surgical removal of the skin. Excisional body contouring involves the removal of excess skin with tightening and lifting of the sagging areas. There are the inevitable downsides of major surgery and significant scars. But if you are sweating in summer full-body Spandex or wearing oversize shirts to cover the excess skin along your lower abdomen, body contouring may be worth consideration.
Contouring After Weight Loss Before and After Photos
---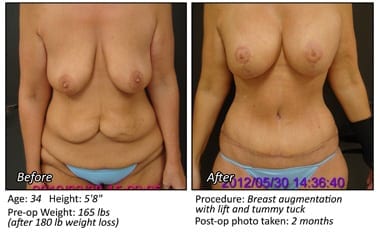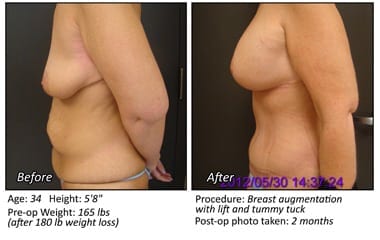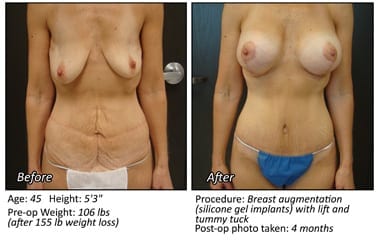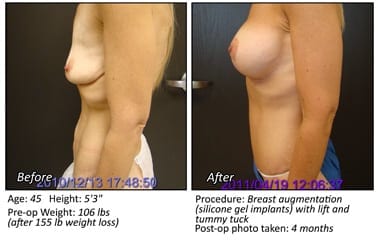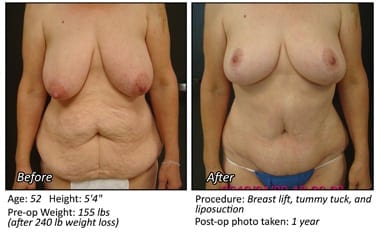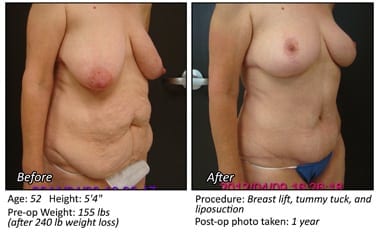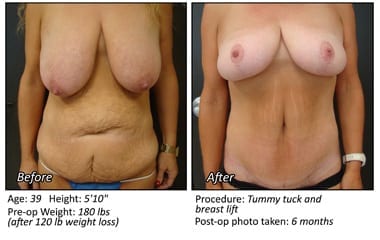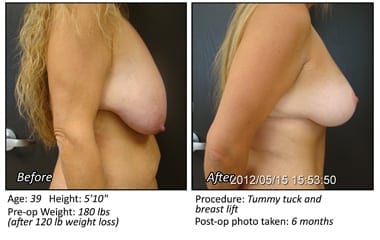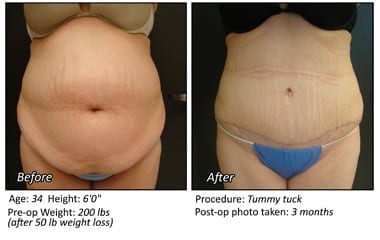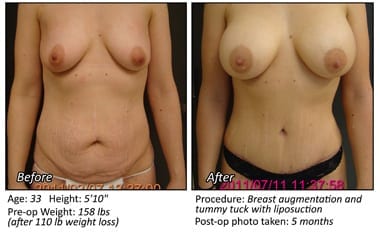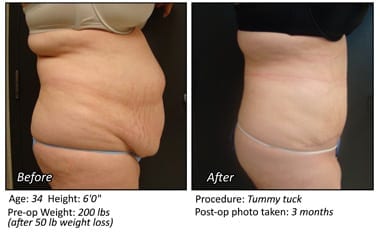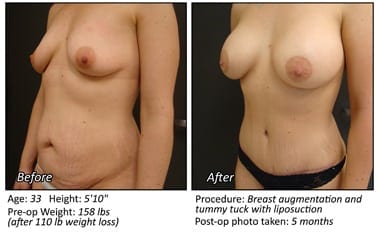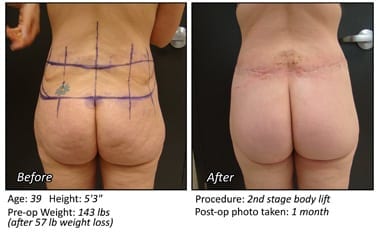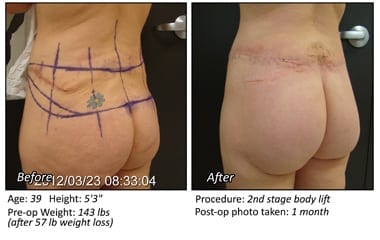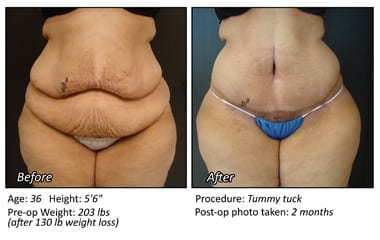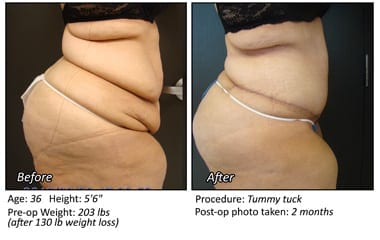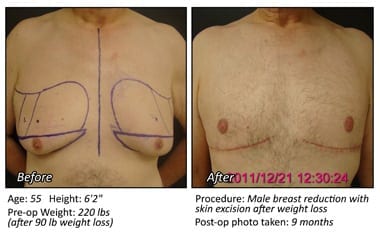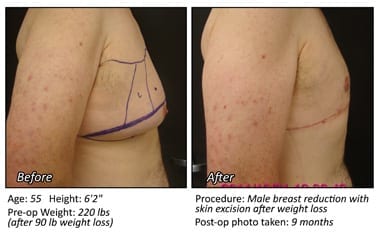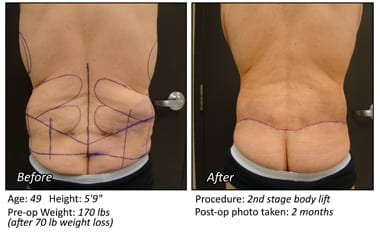 As a specialist in breast and body contouring surgery, Dr. Friedman in Plano, Texas is very experienced in treating patients following postbariatric weight loss. He recommends that you be within 5% of your desired final body weight before undergoing excisional body contouring. Why? Significant further weight loss after surgery may result in recurrent skin excess.
Regardless of whether surgery is performed on the arms, thighs, abdomen or breasts, the same tissue layers must be addressed:
Skin: Properly performed, excisional body contouring involves more than just skin removal. Poor quality, inelastic skin is notoriously poor at holding its shape following surgery. Deeper, stronger structures must be moved for surgery to be effective (see below).
Fat: If there is residual excess fat, this may be removed with the overlying excess skin and/or reduced by liposuction.
Fascia: Fascia is a firm, fibrous layer of tissue under the skin and superficial fat. The fascia must be tightened to provide lasting surgical results.
Dr. Friedman performs all of these procedures under general anesthesia. The procedures are performed in his AAAASF-accredited surgical facility, the West Plano Plastic Surgery Center, which is located on the campus of Texas Health Presbyterian Hospital of Plano, Texas. He strictly uses physicians—not nurses or technicians—to administer your anesthesia. Depending upon your general health and the magnitude of your planned surgery, you may require an overnight stay.
Patient desires and anatomy differ significantly, so there is no single recommended procedure or set of procedures for all weight loss patients. However, Dr. Friedman suggests the following considerations:
Safety should be your—and your surgeon's–highest priority.
Many postbariatric patients have diabetes, hypertension, or sleep apnea. Dr. Friedman may recommend preoperative lab studies and, if necessary, medical clearance from your internist or family physician. He may caution you against doing too many procedures at one time. If a surgeon recommends head-to-toe surgery at once, take a step back and ask yourself, "Is he looking out for my best interests—or his?" We want you to look great after surgery. But first and foremost, we want you to be safe.
Treat the areas that bother you the most first.
You may want to have a breast lift, thigh lift, buttock lift, arm lift, and thigh lift. However, it may not be realistic from a safety standpoint or a financial standpoint to have all of these done at once. Start with the most troublesome area(s).
Don't underestimate the effects of gravity.
Procedures that pull things down (i.e. tummy tuck) are generally more effective than procedures that pull things up (i.e. thigh lift). A breast lift with implants defies gravity better than a breast lift alone. Set your expectations accordingly.
Consider working from the center (breasts, abdomen) out to the sides (arms, thighs).
Simultaneous tummy tuck and breast surgery will generally provide the greatest improvement in appearance. In many patients, this is the best single combination of procedures to consider.
It may be cosmetic surgery, but it's still surgery.
Cosmetic surgery is not synonymous with minor surgery. These are major procedures with lengthy scars, significant recovery, and real risks. Make sure that your surgeon takes the time to personally discuss the surgical options, scars, anticipated recovery, and risks with you.
Q & A: Body Contouring After Weight Loss
---
What is a body lift?

A circumferential body lift involves an incision around the entire circumference of the lower abdomen and back. The front portion is a tummy tuck, and the back portion lifts the buttocks and outer thighs. Because of the magnitude and risks associated of this surgery, Dr. Friedman prefers to divide body lifts into two stages: stage I is an extended tummy tuck, and stage II (3 to 6 months later) is a buttock and outer thigh lift. He believes that the results and safety profile of staged procedures are generally better than those of a single procedure.

Can I do a breast lift, breast implants, and tummy tuck at the same time?

Assuming that you are in good health, Dr. Friedman frequently combines breast and abdominal procedures. The results are often quite dramatic, as larger, lifted breasts complement a tighter, flatter abdomen (see photos). These procedures generally require an overnight stay in our surgery center.

What is an arm lift?

An arm lift (brachioplasty) entails removal of redundant, sagging arm skin through a long incision from the underarm to the elbow. Like other excisional contouring procedures, it provides major skin tightening and lifting with the trade-off of significant arm scars. With your arms at your sides, the scars will be reasonably camouflaged, but with your arms lifted overhead, the scars will be visible.

What is a thigh lift?

A thigh lift (thighplasty) entails removal of redundant, sagging skin from the inner thighs. Although a horizontal incision along the upper, inner thigh may be sufficient for some patients, a vertical inner thigh incision is necessary in most. Regular length shorts will cover most thigh lift incisions, but the scars may be visible in cut-off shorts or swimsuits.

What about procedures for my face after major weight loss?

Major weight loss sometimes results in the appearance of premature aging of the face. This may include deep nasolabial folds (lines from the lower nose to the corners of the mouth), jowling, and cheek or neck laxity. These concerns may be addressed by injection of filler materials, such as Restylane and Juvederm, and/or facelift.

When you visit our office, Dr. Friedman will discuss your specific concerns. He will outline the available procedures and will help you decide which ones may be most appropriate for you. We will also show you a variety of "before and after" photos of excisional contouring procedures performed by Dr. Friedman. If you wish to speak to other patients who have undergone these procedures, we will be happy to provide phone numbers.