Description
Male nipple reduction is generally a straightforward procedure performed under local anesthesia for men who are self-conscious about excessive nipple size and/or protrusion.
Many men with enlarged nipples feel uncomfortable wearing light or tight T-shirts or bathing suits. Some wear dark shirts, preferably with lettering across the chest, or wear thick shirts or layers, even during the hot Plano, Texas summers. Some use band- aids to hide their nipples. To our knowledge, Dr. Friedman is currently the busiest male nipple reduction surgeon in the United States. In fact, he literally wrote the book on the subject. Dr. Friedman recently authored the male nipple reduction chapter for the upcoming textbook for plastic surgeons, Male Aesthetic Surgery: A Comprehensive Guide, Thaller and Cohen, Springer Publishing.
Male Nipple Reduction Before and After Photos
---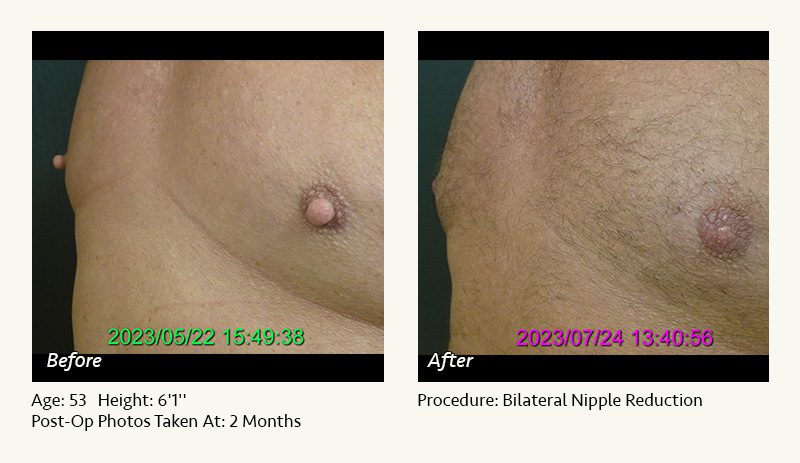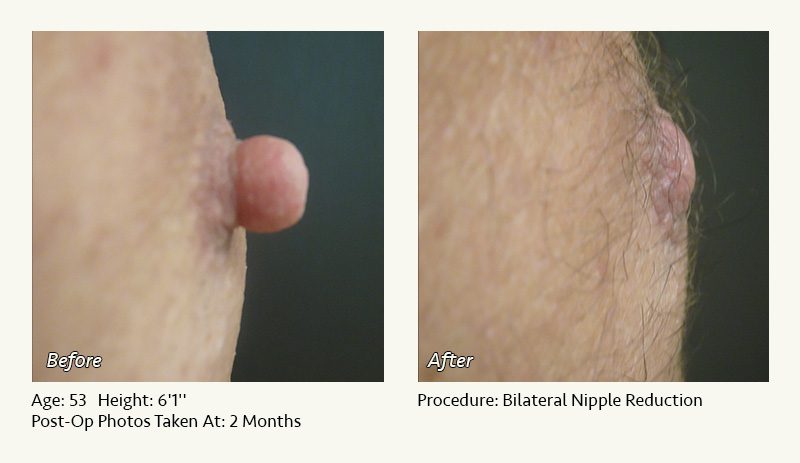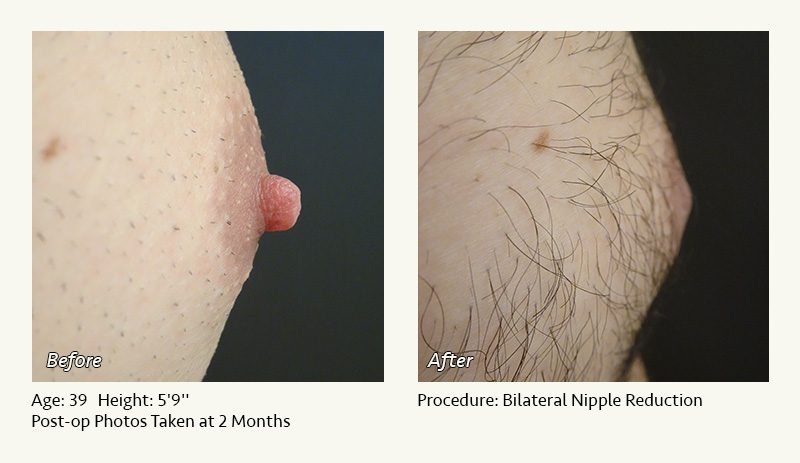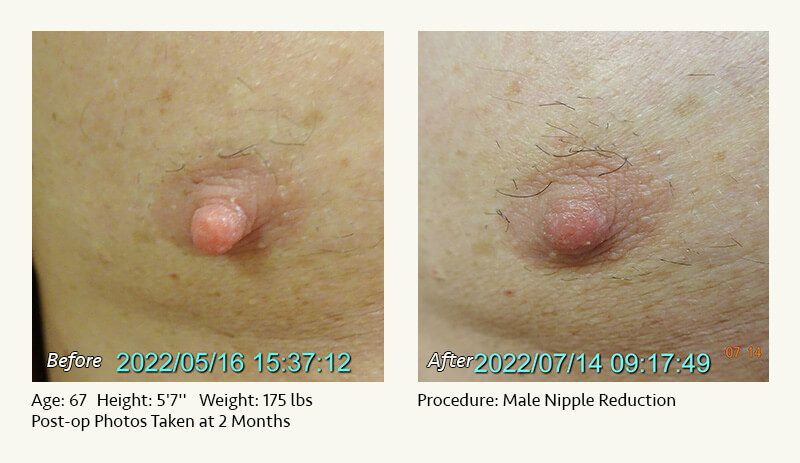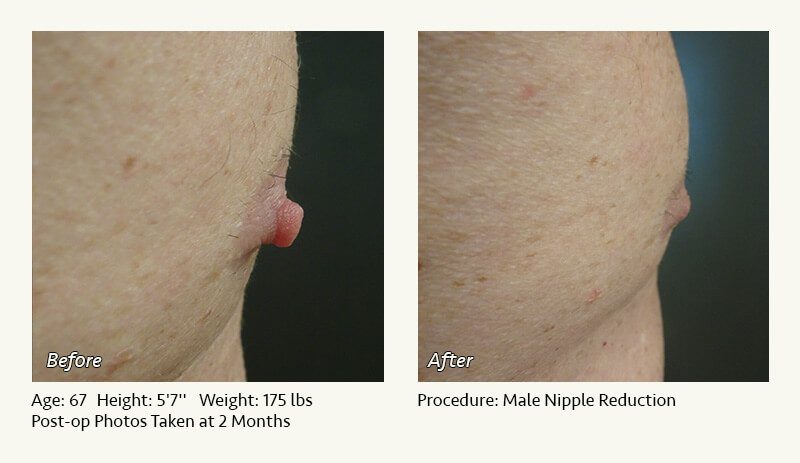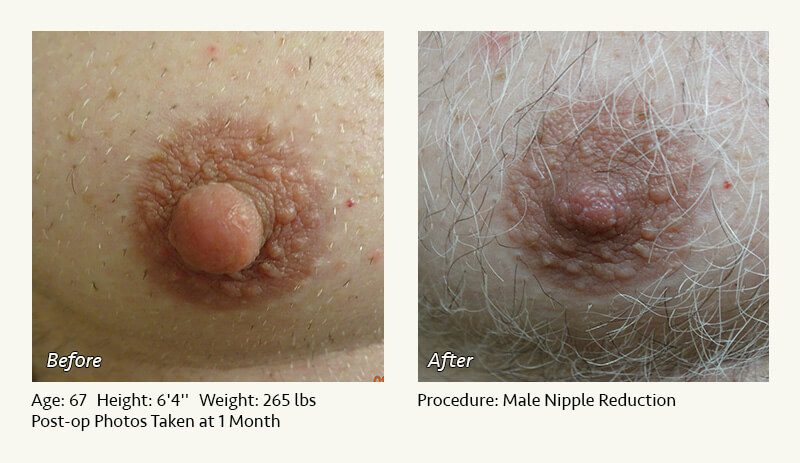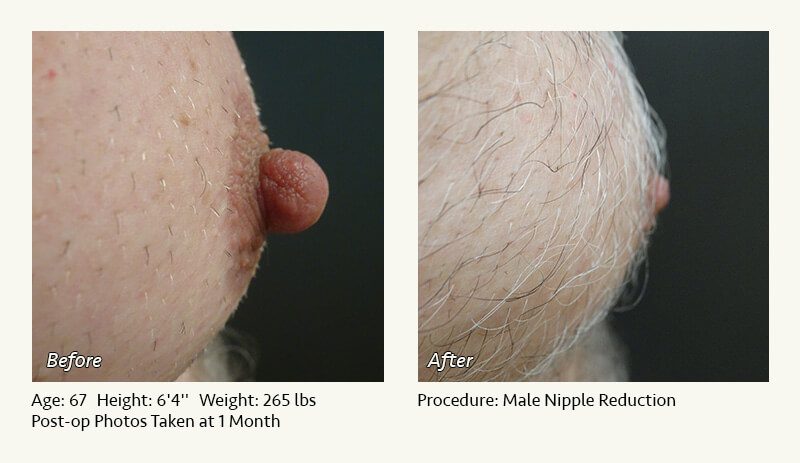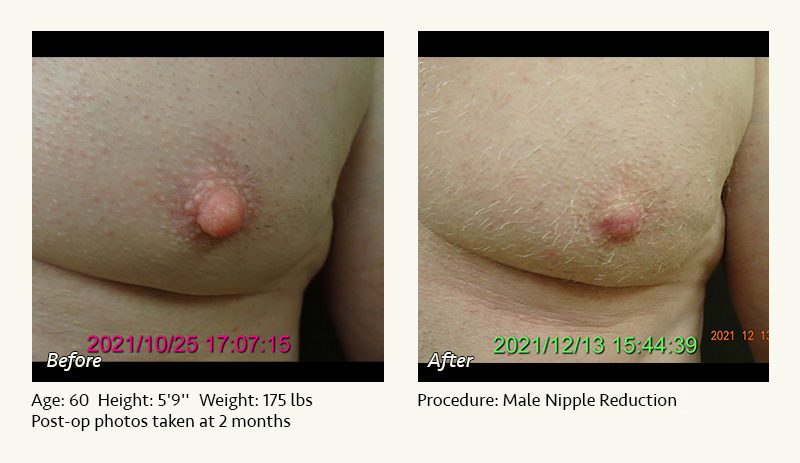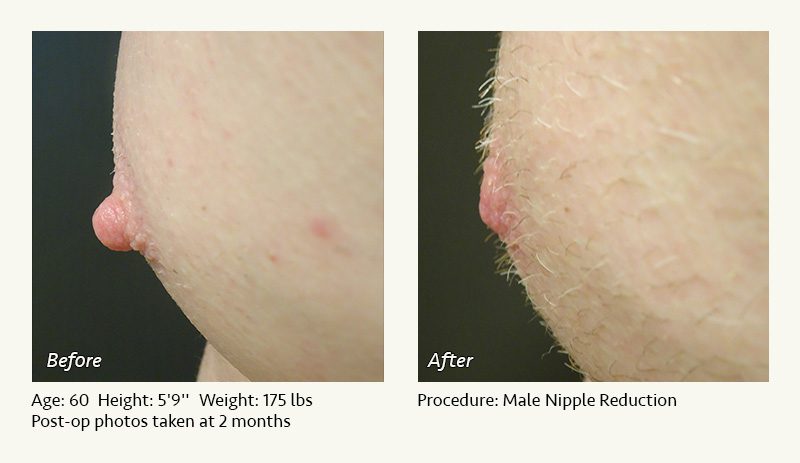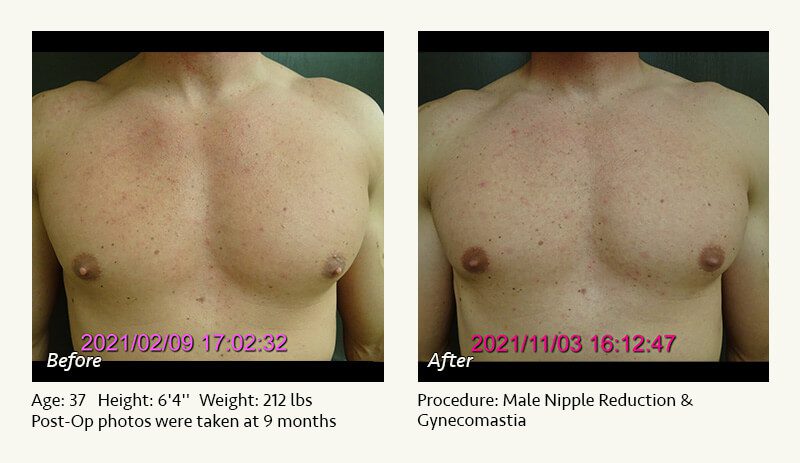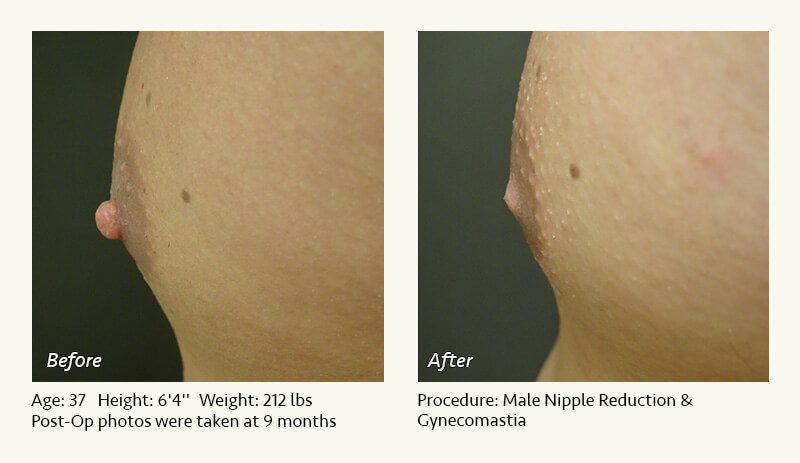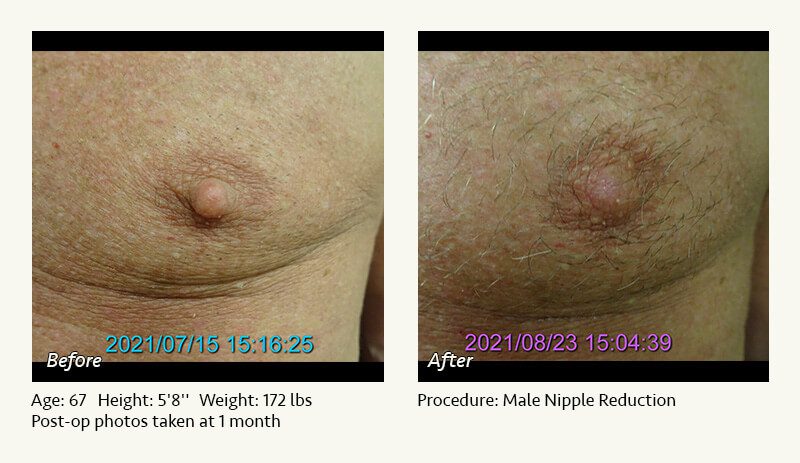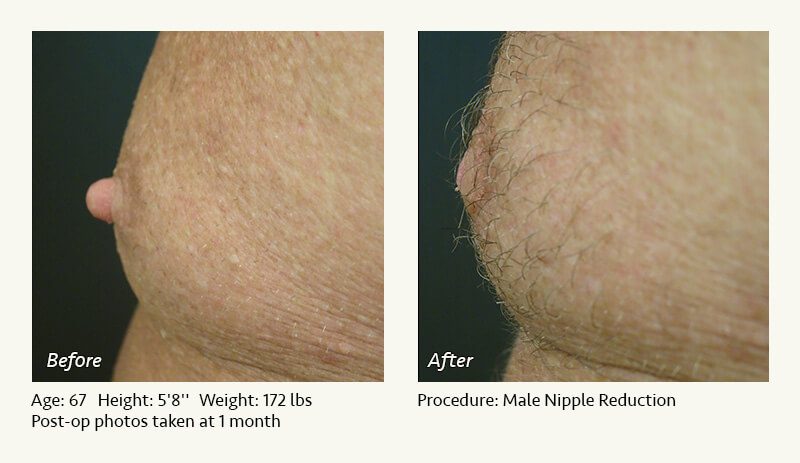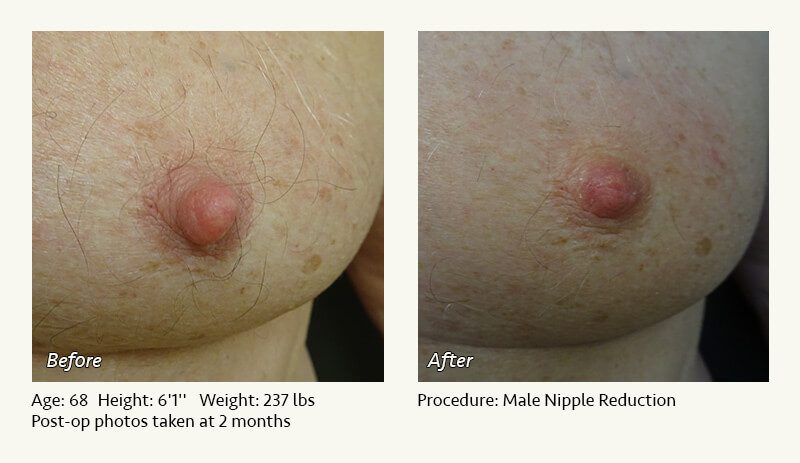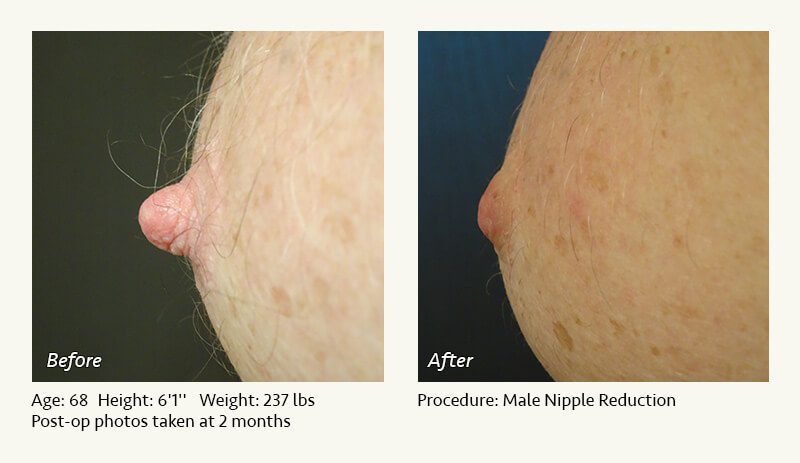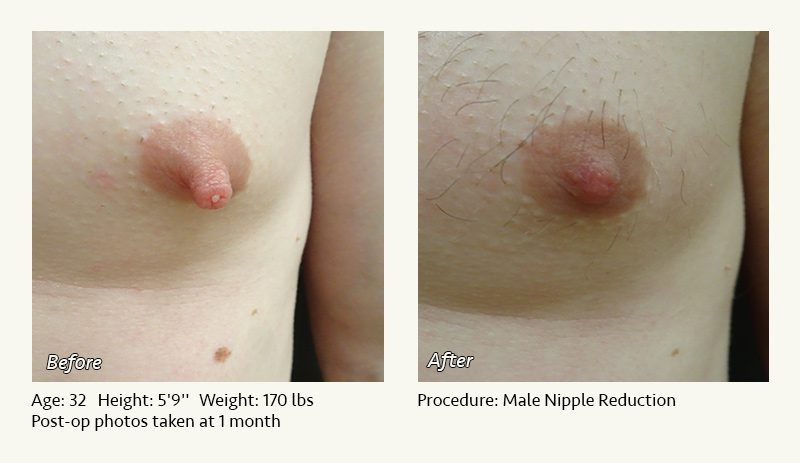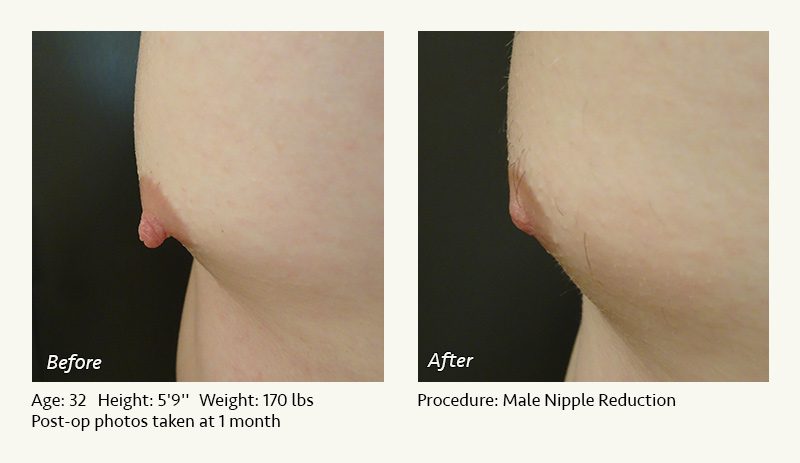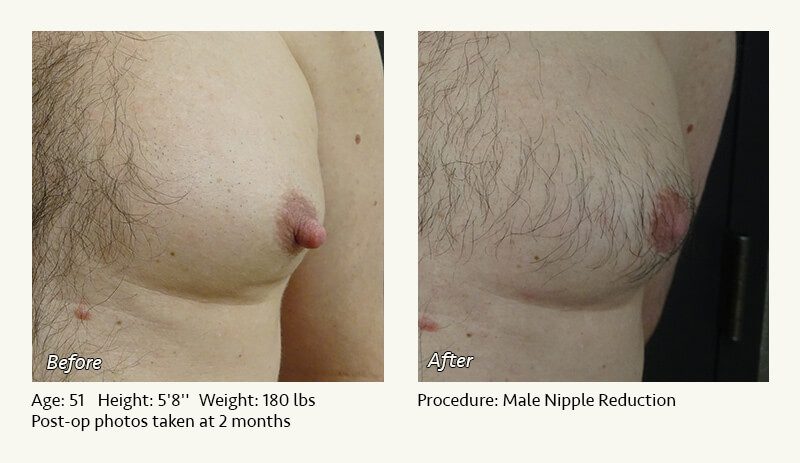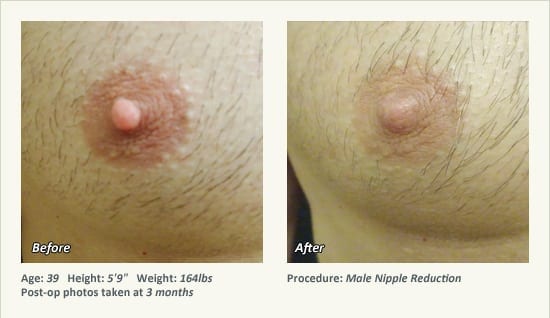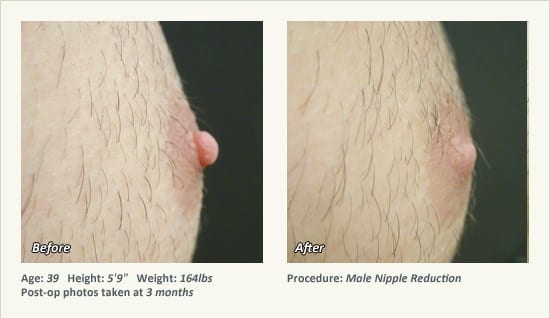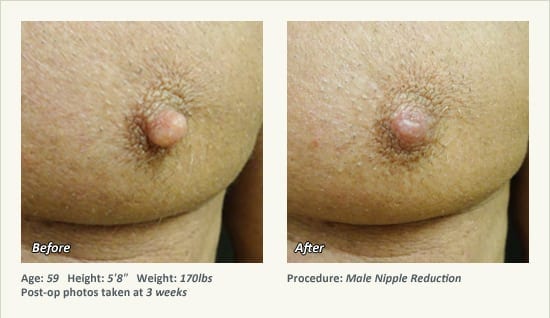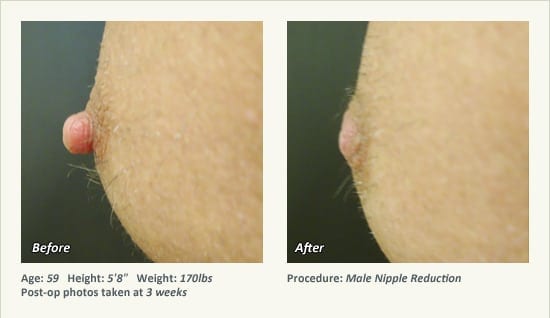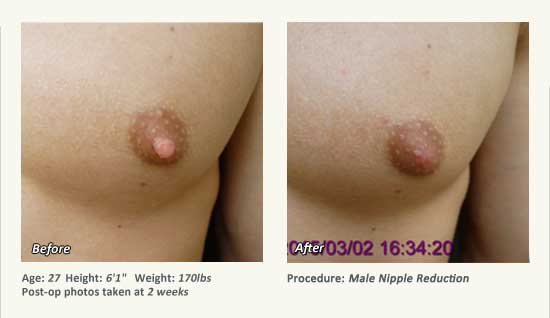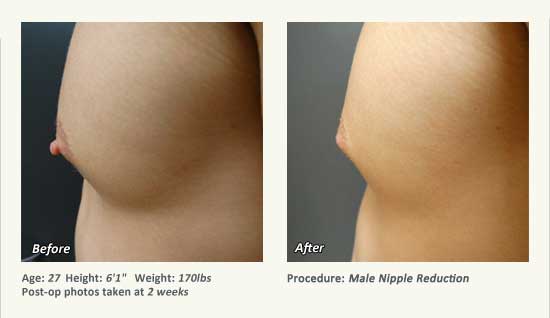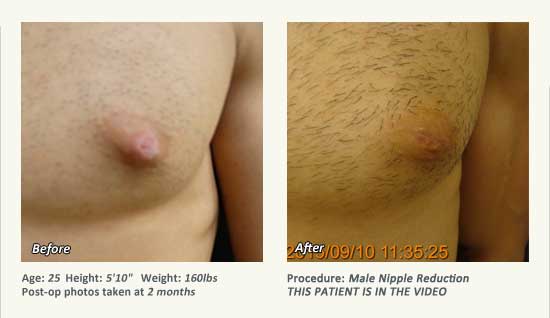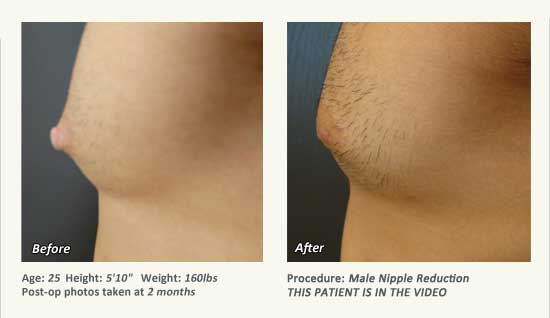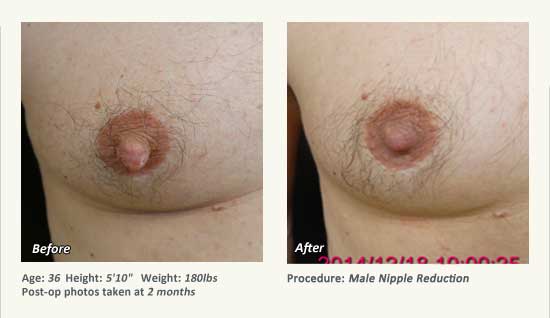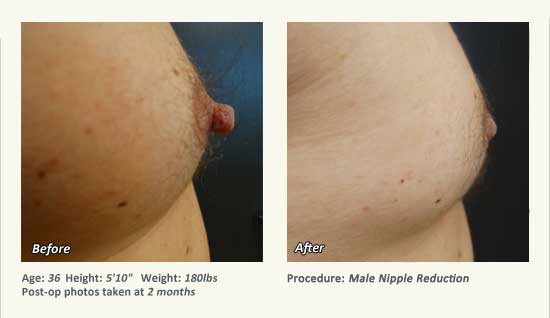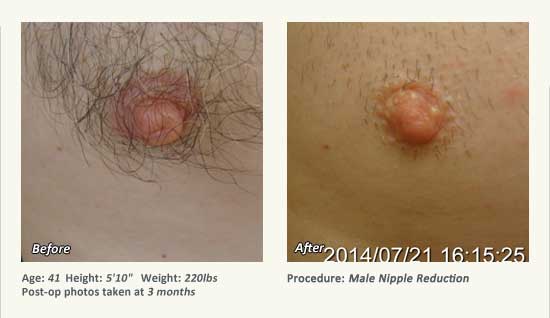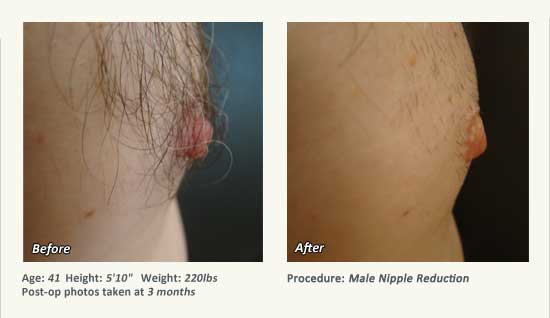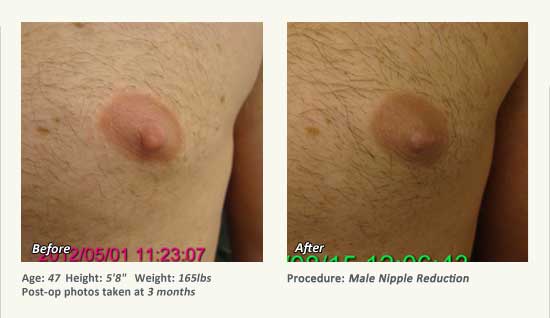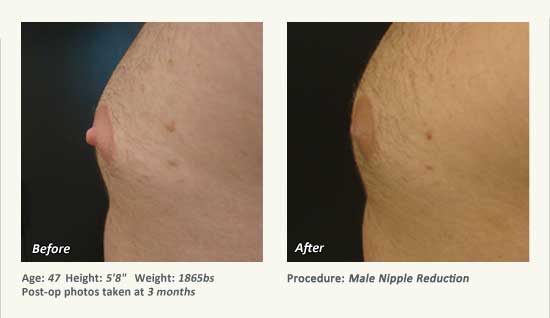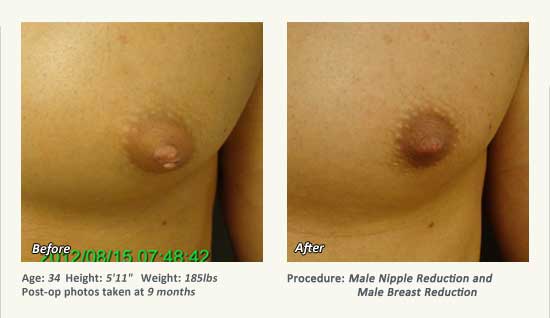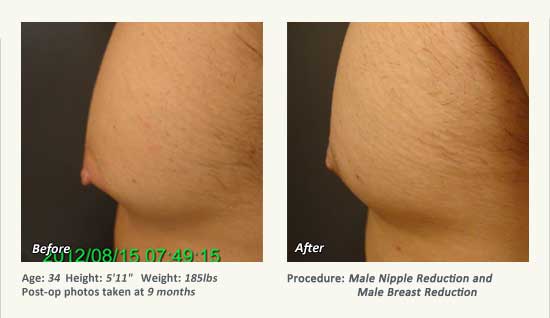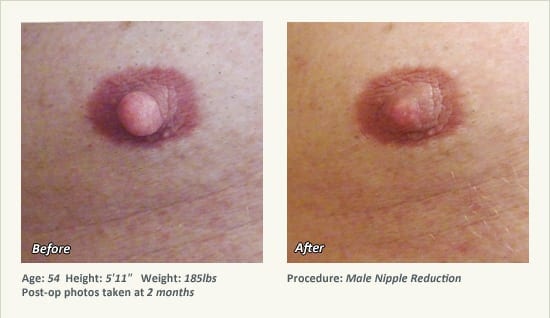 Distinguishing between enlarged nipples and puffy areolae is important because the surgical treatments are very different. Remember that the nipple is the protrusion in the center of the areola; the areola is the pigmented skin surrounding the nipple.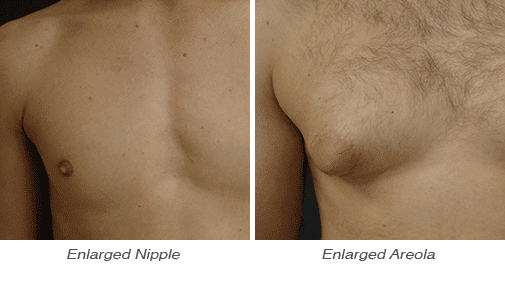 If you have an enlarged nipple:
The protrusion in the center of the areola is too large and/or projects too much.
The surrounding pigmented skin is generally flat.
The area looks worse when the nipple is cold or stimulated.
The surgical treatment is nipple reduction.
If you have a puffy areola:
The entire pigmented area of skin protrudes and looks "puffy."
The nipple does not project much beyond the areola.
The area looks better when the nipple/areola is cold or stimulated.
The surgical treatment is male breast reduction for gynecomastia (enlarged male breasts).
Male nipple reduction is performed under local anesthesia and usually takes about a half hour. After the nipples are numb, horizontally-oriented chevron-shaped (think of the Chevron logo) removal of excessive tissue is performed. The incisions are closed with absorbable stitches and covered with antibiotic ointment and band-aids.
Pain is mild and generally requires no more than extra-strength Tylenol. Exercise and heavy lifting should be avoided for one week. Strenuous chest exercise should be avoided for two weeks. The nipple scars are small and often difficult to find.
Dr. Friedman in Plano, Texas is among the most experienced plastic surgeons in the United States performing male nipple reduction. Men throughout America regularly fly into Dallas to have Dr. Friedman perform their nipple reduction procedures. When you visit our office, Dr. Friedman will evaluate you and discuss your surgical options. We will also show you a variety of "before and after" photos of male nipple surgeries performed by Dr. Friedman. If you wish to speak to other men who have undergone this procedure, we will be happy to provide phone numbers.
Q & A: Male Nipple Reduction
---
How much does nipple reduction cost?

Typical cost is $1,250 for one nipple and $1,950 for both nipples. This includes the consultation, surgical procedure, and postoperative follow-up appointments.

Can you make the nipple completely flush?

Although it is technically possible to completely flatten or eliminate the nipple, Dr. Friedman recommends preservation of a small amount of nipple protrusion. The idea is to make the nipple look small and inconspicuous. Conspicuous absence of the nipple is undesirable.

How visible are the scars?

Though every patient differs, the vast majority of nipple reduction scars are nearly imperceptible.

How long do I have to be off work?

Assuming that the job does not require strenuous physical activity, most men can return to work the day after nipple reduction surgery. Some return the same day.

If I feel that the nipple is still too large, can it be reduced further?

Nipple reduction can easily be repeated through the same incision as long as some nipple is preserved, as above.

Why did Dr. Friedman develop the "chevron" technique?

Most surgeons use nipple reduction techniques that are designed to preserve breast feeding . Since this is not a concern for men, a simpler, more reliable technique that produces less scarring is preferable.
Male Nipple Reduction: Instructions
---
Two weeks before your appointment
Do not take aspirin-containing products or anti-inflammatories, as these may increase your risk of bruising. Use extra-strength Tylenol for any headaches or other minor pains.
Please notify Dr. Friedman's staff if you become sick with a fever, significant cough, etc. If necessary, your procedure can be rescheduled to a time when you are feeling better.
Do not smoke at all or use a nicotine patch for at least two weeks (and preferably 4 weeks) prior to surgery and 4 weeks after surgery. Smoking interferes with wound healing and increases your risk for anesthetic and surgical complications.
At home after the procedure
Do not perform strenuous activities or exercise for one week after your procedure.
You may gently shower over the incisions 24 hours after the procedure. Cover the incisions with antibiotic ointment and band-aids daily for the first week. Continue band-aids until the sutures absorb (usually 10 to 14 days).
You will initially notice some swelling of the nipples. This will gradually resolve in the next few weeks.
Scar care is generally unnecessary.