Tummy Tuck
Photo Gallery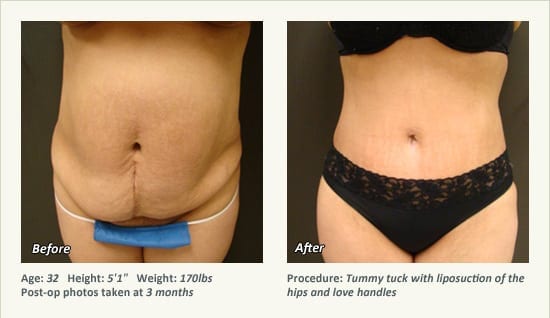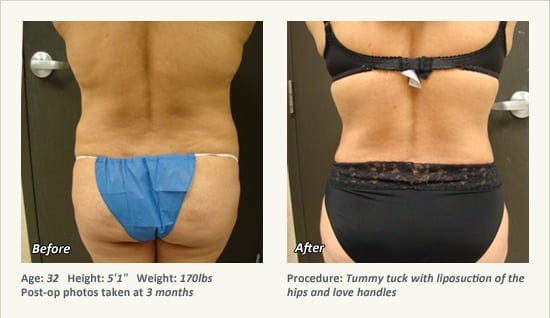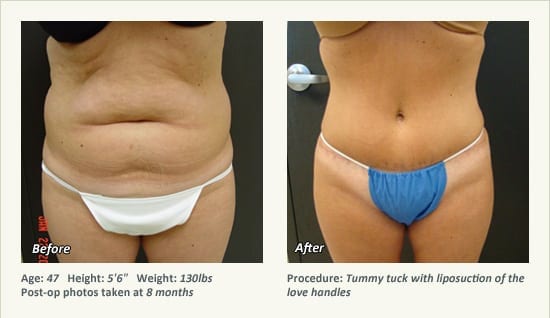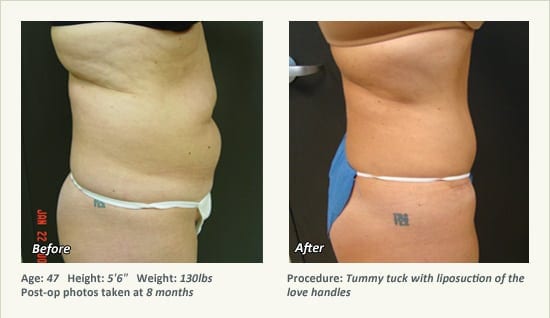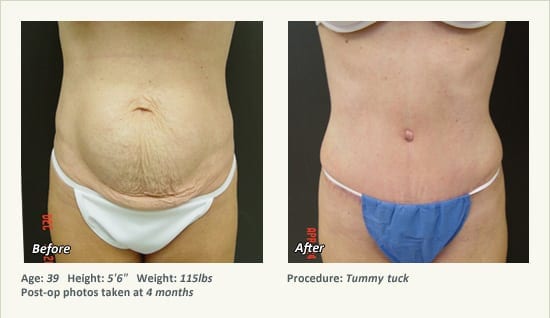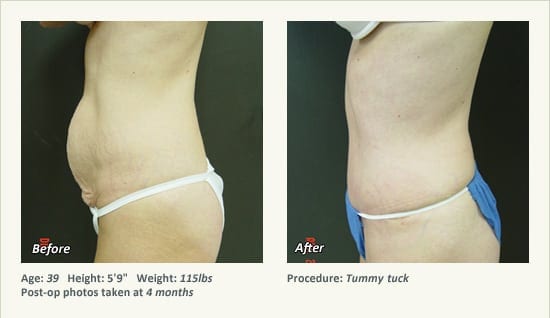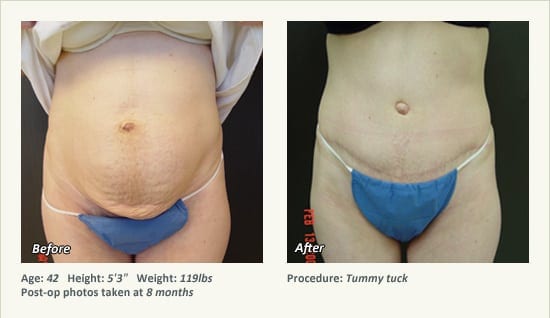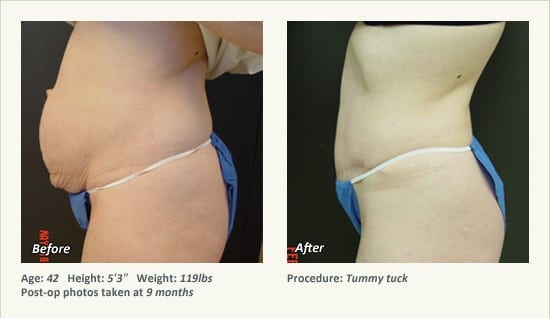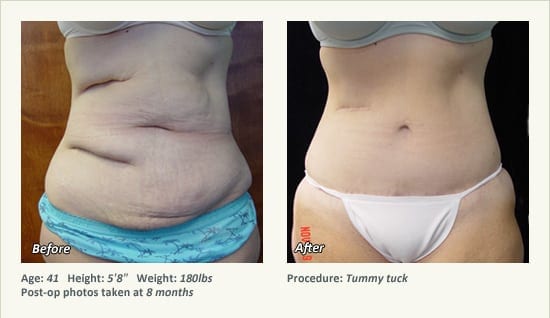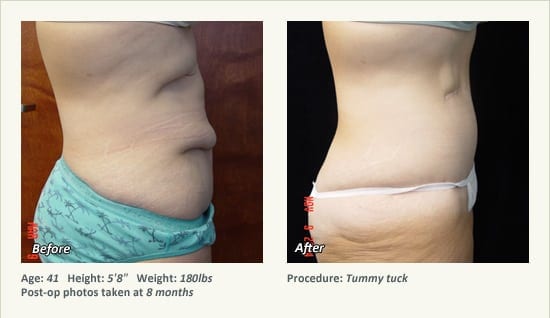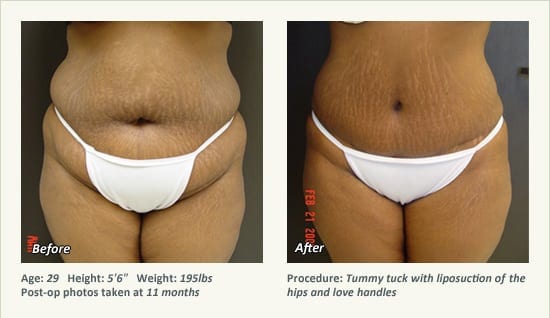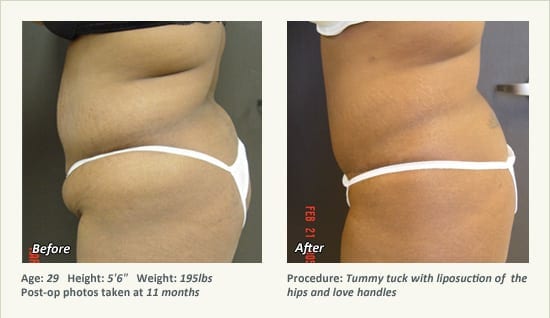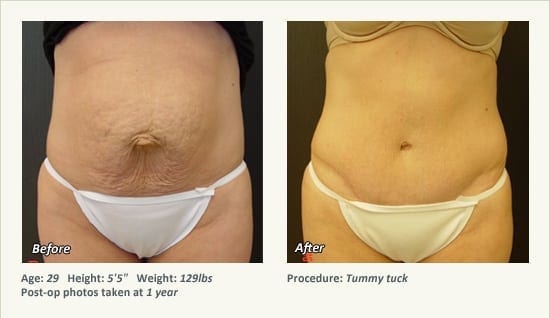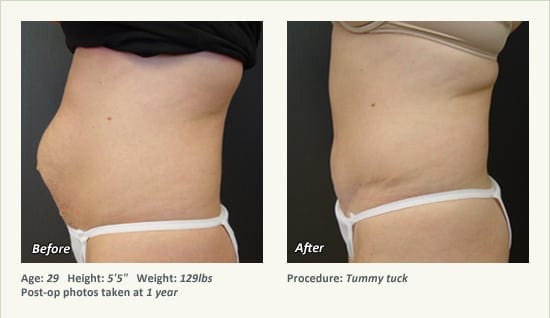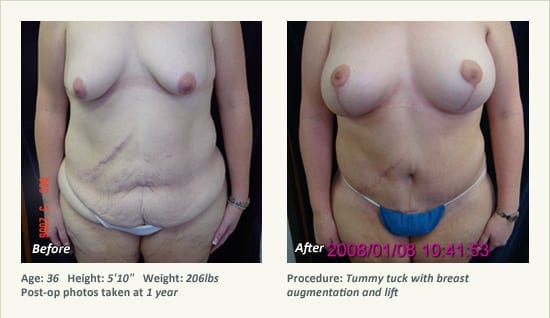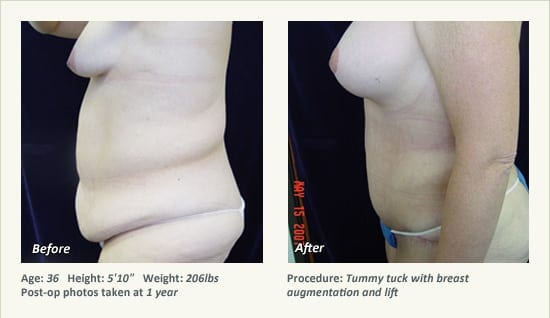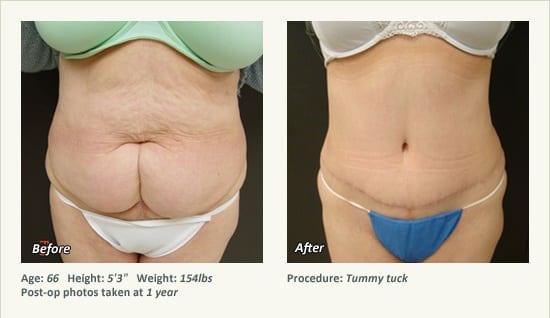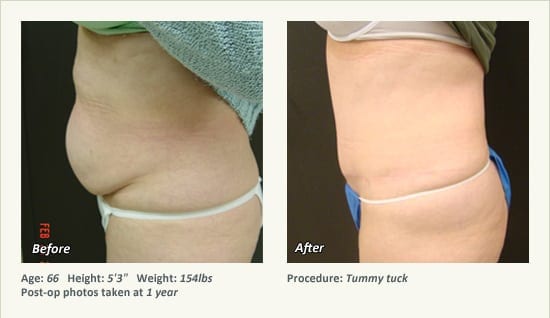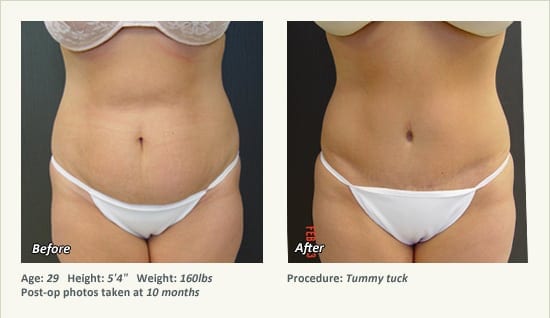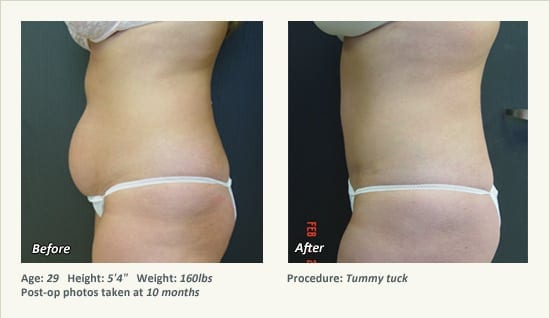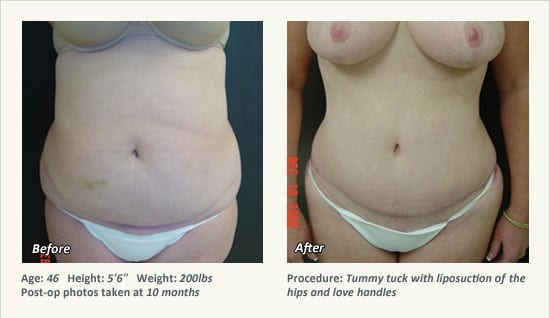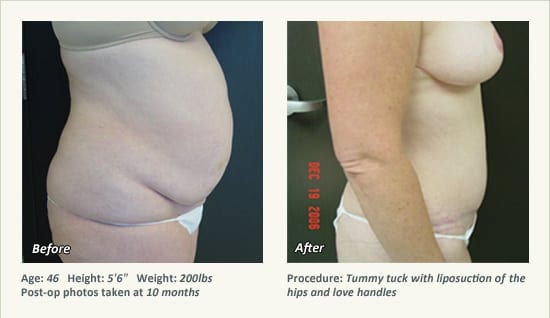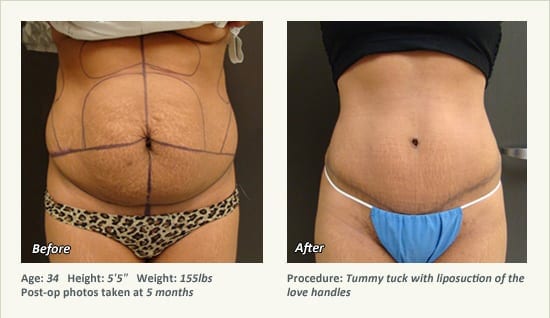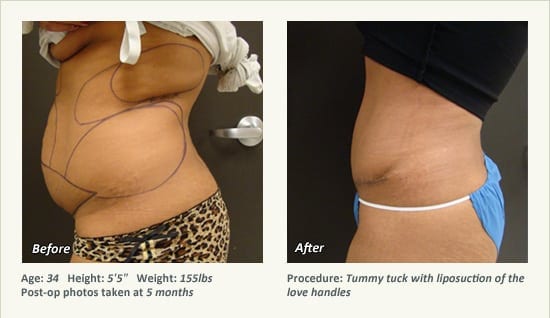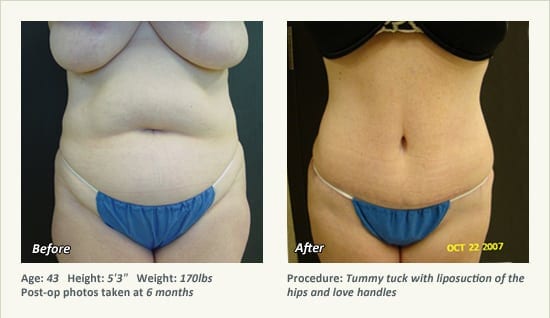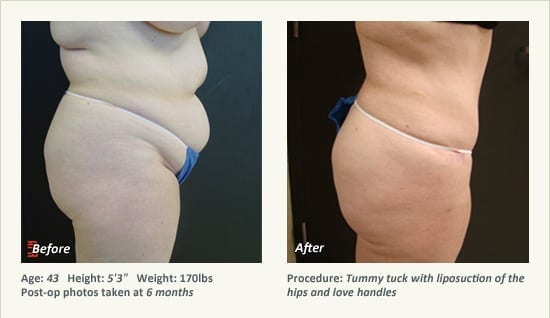 ---
How does a Tummy Tuck Procedure Work?
Tummy Tuck (abdominoplasty) is a surgical procedure performed to improve abdominal contour in one or more of the following ways:
To reduce lower abdominal stretch marks and skin laxity.
To reduce skin irritation and rashes due to overhanging skin.
To reduce excessive abdominal wall fat.
To tighten abdominal wall laxity resulting from pregnancy and weight changes.
The abdominal wall consists of four distinct layers: skin, fat, fascia, and muscle. (The fascia is the fibrous tissue surrounding the abdominal wall muscles.) Four distinct abdominal contouring procedures are available, depending upon your specific anatomy and concerns:
Liposuction – This is an appropriate technique to treat excessive abdominal wall fat in patients with good skin tone and muscle tone. A few 1/4 inch incisions are used to remove the excessive fat.
Mini tummy tuck – In patients with mild lower abdominal skin and/or fascial laxity and excessive fat but good upper abdominal skin and fascial tone, Dr. Friedman may recommend a mini tummy tuck. Through a limited bikini line incision, a small amount of excessive skin is removed. Excessive fat is removed by liposuction. If deemed appropriate, the abdominal fascia below the belly button may be tightened.
Extended mini tummy tuck – This procedure is similar to a mini tummy tuck but involves a longer incision, which is useful for greater degrees of lower abdominal skin laxity.
Full tummy tuck – In patients with loose skin, "stretched-out" fascia and excessive fat, full tummy tuck is usually the best option. Through an extended lower abdominal incision, all excessive skin and fat between the belly button and pubic area is removed. Upper abdominal liposuction is performed. The fascial is tightened along the midline of the abdomen, frequently decreasing waist size by 2 to 4 inches.
Dr. Friedman performs all of these procedures under general anesthesia on an outpatient basis. The procedures are performed in his AAAASF-accredited surgical facility, the West Plano Plastic Surgery Center, which is located on the campus of Texas Health Presbyterian Hospital of Plano. He strictly uses physicians—not nurses or technicians—to administer your anesthesia.
A full tummy tuck involves the following operative sequence:
Excessive fat above the belly button is contoured by liposuction.
All skin and fat from the belly button to the pubic area is removed.
Permanent internal stitches are used to tighten the loose fascia (by up to 5 inches) side-to-side from the rib cage down to the pubic bone, reducing the waistline.
The mobilized upper abdominal skin and remaining fat are pulled down, and the lower abdominal incision is closed with absorbable, internal stitches. No external stitches are used.
The belly button (the same one you've always had in the same place you've always had it) exits through the repositioned skin. The belly button shape is oriented vertically, rather than horizontally, after surgery.
The primary advantages of a full tummy tuck are:
Permanent removal of excessive lower abdominal skin and stretch marks.
Permanent tightening of the abdominal wall (assuming you do not have more children or a major weight gain after surgery).
Improved contour of the umbilicus (belly button) in most patients.
Improved waistline.
The primary disadvantages of a full tummy tuck are:
An extended horizontal lower abdominal scar. The scar will fade significantly with time, but like all scars, it is permanent.
A significant recovery. You probably won't like Dr. Friedman very much for about a week or two after surgery. After that, you'll probably like him a lot.
Pain medication is necessary for about 10 days following surgery. Because of the large amount of skin removal, you will initially walk in a bent-over "little old lady" position. It may take 5 to 7 days for you to stand completely upright. Two plastic drainage tubes that exit the pubic area are removed about 2 weeks after surgery. A compression garment must be worn over the surgical sites continuously for one month and intermittently for a second month to maximize the surgical result.
Although mini tummy tuck is frequently discussed, Dr. Friedman has found that most patients are better candidates for either liposuction alone or full tummy tuck. However, there is definitely a subset of women who will benefit from standard or extended mini tummy tuck. The most appropriate type of procedure is based upon your desires and your anatomy. The decision is yours. Dr. Friedman will be happy to discuss the specific advantages and disadvantages of the available options.
With an extensive experience as a wood and marble sculptor, Dr. Friedman performs a large number of tummy tucks, frequently in conjunction with other breast and body contouring procedures. Tummy tuck (abdominoplasty)  is frequently combined with liposuction, breast augmentation, breast lift, or breast reduction.  When a tummy tuck is performed in conjunction with breast procedures to combat the effects of childbirth, this combination is called a mommy makeover.  When a tummy tuck is performed for lax tissues after a major weight loss, this is considered contouring after major weight loss.
When you visit our office located in Plano, TX, Dr. Friedman will discuss your specific concerns. He will outline the available procedures and will help you decide which one may be most appropriate for you. We will also show you a variety of "before and after" photos of abdominal contouring procedures performed by Dr. Friedman. If you wish to speak to other patients who have undergone these procedures, we will be happy to provide phone numbers.
Dr. Friedman explains tummy tucks.
Q & A: Tummy Tuck
Will my stomach be flat after tummy tuck?
Your abdomen will be much flatter after tummy tuck, but no one can guarantee that it will be perfectly flat. In overweight patients, the excessive fat inside the abdominal cavity makes it impossible to completely flatten the abdomen. In patients who are height-weight proportionate, the abdominal wall can be maximally tightened.
Can you perform breast surgery or liposuction with a tummy tuck?
Tummy tuck is frequently combined with breast surgery (augmentation, lift, reduction) and/or liposuction of the hips, "love handles," and thighs. The results of combined procedures are often quite dramatic. These procedures may require an overnight stay in our surgery center. There is a safe limit to how much surgery can be performed in one day, and above all, Dr. Friedman wants you to have a safe experience.
How much does a tummy tuck hurt?
Tightening the abdominal wall can be quite uncomfortable. Therefore, in addition to pain medication, Dr. Friedman uses "pain pumps" in all of his full tummy tuck patients. The pain pump, which is very similar to an epidural, consists of two tiny catheters that continuously drip local anesthetic along the surgical site for the first few days after surgery. Although it will not eliminate pain altogether, the pain pump really helps.
Can I still have more kids after tummy tuck?
Tummy tuck should be delayed until you are done having children. The primary purpose of a tummy tuck is to tighten the abdominal wall laxity caused by pregnancy and weight loss. Although you can safely have children after a tummy tuck, childbirth will certainly compromise your surgical results.
Do you have to make me a new belly button?
No, you will keep your original belly button in its original position. With a fully tummy tuck, all of the skin around the belly button will be shifted and tightened. If your belly button is currently oriented horizontally and has excessive skin hanging over it, Dr. Friedman will re-orient it vertically and will remove the excess skin.
Is it safe to have abdominal liposuction with a tummy tuck?
Are vertical scars ever required for tummy tucks?
How will my belly button look after a full tummy tuck?
How do I prevent blood clots after a tummy tuck?
Tummy Tuck: Instructions
One week before surgery
Do not take aspirin-containing products, as these may increase your risk of bleeding. Use extra-strength Tylenol for any headaches or other minor pains.
Please notify Dr. Friedman's staff if you become sick with a fever, significant cough, etc. If necessary, your surgery can be rescheduled to a time when you are feeling better.
Do not smoke at all or use a nicotine patch for at least 4 weeks prior to surgery and 4 weeks after surgery. Smoking interferes with wound healing and increases your risk for anesthetic and surgical complications.
Arrange to have a relative or friend drive you home after surgery and stay with you for the evening. You cannot drive yourself home.
The evening before surgery
Do not eat or drink anything for at least 8 hours prior to your scheduled surgery time.
Make some jello and/or soup for after surgery. Have some juice in your refrigerator.
The anesthesiologist will contact you by phone to discuss your medical history and to answer any questions.
Day of surgery: before you leave home
Remember not to eat, drink, or smoke. This includes no chewing gum, mints, etc.
Make sure someone is available to drive you home. Put a pillow and blanket in the car.
Wear loose, comfortable clothing. Avoid heavy make-up, jewelry, or contact lenses. Please do not use any lotion, baby oil, perfume or powder. LEAVE ALL VALUABLES AT HOME!
Day of surgery: at the facility before surgery
Dr. Friedman will talk to you before surgery to answer any last-minute questions. He will mark your areas of undesirable skin and fat to help him accurately plan your surgery.
You will meet the anesthesiologist and surgical nurses.
Day of surgery: at the facility after surgery
You will be taken to the recovery area to wake up after surgery. Dr. Friedman will go to the waiting room to speak to your family/friends.
Approximately 1 hour later, your family can visit you. Once you are feeling well enough, you may go home (unless an overnight stay is planned).
At home after surgery
Have someone stay with you for the first few days. You may be weak and drowsy the first night, and you will need assistance getting up and lying down for the first few days.
Take the antibiotics, pain medication (as needed), and anti-nausea medicine (if needed) that Dr. Friedman has prescribed for you.
Sleep with your head elevated and your legs elevated (the "beach chair" position). Sleep on your back (not your stomach or side). If available, a recliner is quite helpful.
Keep your compression garment clean and dry; do not remove it. You may use soap and a wet washcloth to cleanse all other body areas.
Measure and empty the fluid from the drains twice daily. After emptying the fluid, re-collapse the drains to ensure proper function. Keep a record of drain output and bring it to Dr. Friedman's office for your first follow-up visit.
Take at least 10 deep breaths every hour using the spirometer that we will provide you. This will help keep your lungs expanded.
Do not be a couch potato. To reduce the risk of blood clots in the legs, have someone help you to get up and walk (in a hunched-over position) anytime you need to eat or use the bathroom. While you are in bed, repeatedly flex your ankles (moving your toes up and then down) and/or have your family massage your calves.
If you experience a prolonged fever (oral temperature greater than 101), contact Dr. Friedman. Feel free to call our office or to page Dr. Friedman for any other problems or concerns.
Instructions for your first postoperative visit (about 3 to 4 days after surgery)
1. Activity level
1 week after surgery: you may resume casual walking but must not engage in vigorous exercise that increases your blood pressure or heart rate. You may resume driving once you are off of your pain medication. Avoid freeways until you are comfortable with city driving.
4 weeks after surgery: you may gradually resume light exercise activity (if permitted by Dr. Friedman). You should wear your compression garment during any exercise. You may not perform abdominal exercises for 8 weeks.
2. Sleeping position
Please sleep on your back (with your head elevated and a pillow under your knees) or part way over (pillow under your shoulder and hip). Do not sleep on your side until about 4 weeks after surgery. Unless otherwise instructed by Dr. Friedman, do not sleep on your stomach until about 8 weeks after surgery.
3. Incision care
You have a layer of tissue glue to seal your incision. After this peels off (about 2 weeks after surgery), begin scar massage with Mederma twice daily. Mederma is available at our front desk or over-the-counter at your pharmacy. If you prefer, you may use Vitamin E or Aloe Vera. Continue scar massage for about 3 months.
4. Massage
You should begin massage to the suctioned areas one week after surgery. This will help smooth any irregularities and areas of firmness. You may apply lotion to your hand to massage and/or you may use a vibrating massager. If you would like, we will provide you the phone number of a licensed massage therapist.
5. Water exposure
You may sponge bathe daily after your first postoperative appointment. You should avoid scrubbing your incisions. You may begin daily showers 48 hours after your drains are removed. Avoid the pool, lake, and ocean for 4 weeks.
6. Medications
One week after surgery, you may resume use of any medications or supplements that you discontinued prior to surgery. However, for at least 3 weeks, you should avoid Motrin, aspirin, and any other product that may thin your blood.
7. Smoking
Do not smoke for at least one month (and preferably much longer) after surgery. Smoking may increase your risk of infection, lung problems following anesthesia, and wound healing problems.
8. Tanning
You may tan whenever you like. However, you should use a high-SPF sunscreen (30 or greater) over your incisions for at least 6 months. Premature tanning of the incisions may cause them to darken permanently.
9. Sex
You may resume intercourse in a non-weight bearing position (i.e. on your side) about 4 weeks after surgery. You may not bear weight on your abdomen for at least 6 weeks.
10. Compression garment
Wear the compression garment all day and all night (except for bathing and massage) during the first month. Wear the garment at least 12 hours per day (or night) for the second month (unless instructed otherwise by Dr. Friedman). You may wish to wear elastic support hose for a few weeks to prevent ankle and foot swelling.
Please feel free to ask Dr. Friedman or his staff about any additional questions or concerns.
Plano, Frisco, and Irving Tummy Tuck Specialist
If you are considering having plastic surgery, consider Plano plastic surgery specialist, Dr. Ronald Friedman. Dr. Friedman performs plastic surgery at the West Plano Plastic Surgery Center. This AAAASF-accredited office surgery center is equipped to optimize your comfort, privacy, and safety. The West Plano Plastic Surgery Center has only one operating room because Dr. Friedman performs each and every surgery from start to finish and only operates on one patient at a time. Dr. Friedman also has admitting and operating privileges at the Presbyterian Hospital of Plano and Texas Health Center for Diagnostics and Surgery.   Browse this website or contact us to learn more about Dr. Friedman's Plano plastic surgery practice, serving the greater Dallas area.
After multiple pregnancies, massive weight loss, and/or aging, the midsection is often left with stretched-out abdominal muscles and loose, excess skin. In order to improve these features, Dr. Friedman performs tummy tuck surgery in Plano at the West Plano Plastic Surgery Center. Patient safety is of highest importance; Dr. Friedman's practice is located on campus at the Presbyterian Hospital in Plano about 15 minutes away from Frisco, which offers the necessary resources to help patients feel at ease.
Designed to remove excess skin and fat from your abdominal region, a tummy tuck can dramatically enhance both your figure and self-image. Medically known as "abdominoplasty," this body contouring procedure is designed to help patients regain a more slender figure. As a wood and marble sculptor, Dr. Friedman brings a creative eye to the surgery in order to provide patients with a tighter abdominal profile.
During tummy tuck surgery (abdominoplasty), excess skin and fat between the belly button and pubic area is removed. The muscles are tightened from the rib cage to the pubic bone, which decreases waist size by 2 to 4 inches. Depending on the amount of excess skin and stretched-out muscles, patients may undergo a mini abdominoplasty, extended tummy tuck, or full tummy tuck.
A tummy tuck, or abdominoplasty, is performed by making an incision from hipbone to hipbone, directly above the pubic area, to reduce any visibility of scarring. Dr. Friedman then tightens your  abdomen to give you a flatter and firmer looking stomach. The skin of the stomach area is then stretched, excess skin and fat are removed and the skin is redraped, giving you a more appealing stomach and a smaller waist in the process. Dr. Friedman is board-certified by the American Board of Plastic Surgery.  D Magazine has named him among the best plastic surgeons in Dallas and/or Collin County for the past seven years.
Liposuction is usually performed in conjunction with a tummy tuck to remove excess fat from the lower abdomen. A mini tummy tuck is also available. To learn more about your options for a tummy tuck in Dallas, browse this website, then contact our Plano plastic surgery center and schedule a consultation appointment.
To see examples of Dr. Friedman's results, Irving, Plano, and Frisco tummy tuck patients may view before and after abdominoplasty photos, along with educational videos for further details. The available Q&As and patient testimonials offer further insight to the care provided at the West Plano Plastic Surgery Center.
If you would like to learn more about your options concerning plastic or cosmetic surgery in Plano, Frisco, or Irving, please take a few minutes to browse through this website. We invite you to contact us to schedule a consultation appointment with plastic surgeon Dr. Friedman. Dr. Friedman and his staff will be more than happy to address all your questions and concerns.
Dr. Friedman has more than 19 years of experience and has earned multiple awards.
Having appeared on the "Dallas Morning News," as well as named "Best Plastic Surgeon" in D Magazine and a "Texas Super Doctor" by Texas Monthly magazine, Dr. Friedman has the expertise and qualifications to help patients achieve a natural-looking outcome. He is board certified by the American Board of Plastic Surgery (ABPS), as well as a member of the American Society of Plastic Surgeons (ASPS), the Texas Society of Plastic Surgeons (TSPS), and the American Society for Aesthetic Plastic Surgery (ASAPS). Additionally, Dr. Friedman is the former Chief of Plastic Surgery at Parkland Memorial Hospital.
Prospective Plano, Frisco, and Irving, TX abdominoplasty patients may schedule a cosmetic consultation at our Plano location by calling (469) 467-0100. A contact form and e-mail are also available for added convenience.