What is nonsurgical rhinoplasty?
Nonsurgical rhinoplasty is a procedure used to improve nasal contour by adding injectable fillers, most commonly Restylane.  It is used to:
Reduce volume deficiencies of the upper and mid nasal areas.
Camouflage a nasal hump by adding volume just above and/or below the hump.
Reduce contour irregularities resulting from trauma or surgical rhinoplasty.
Camouflage mild deviation (crookedness) of the nose.
Add volume to the nasal bridge (especially in Asian and African-American patients).
Nonsurgical Rhinoplasty Before & After Photos
---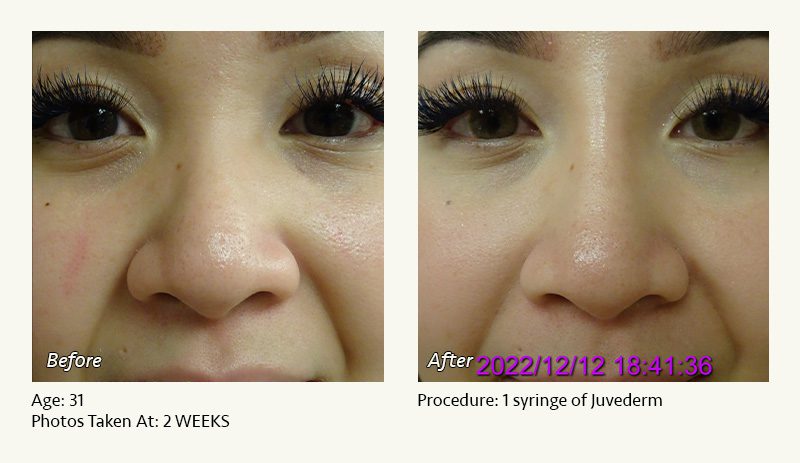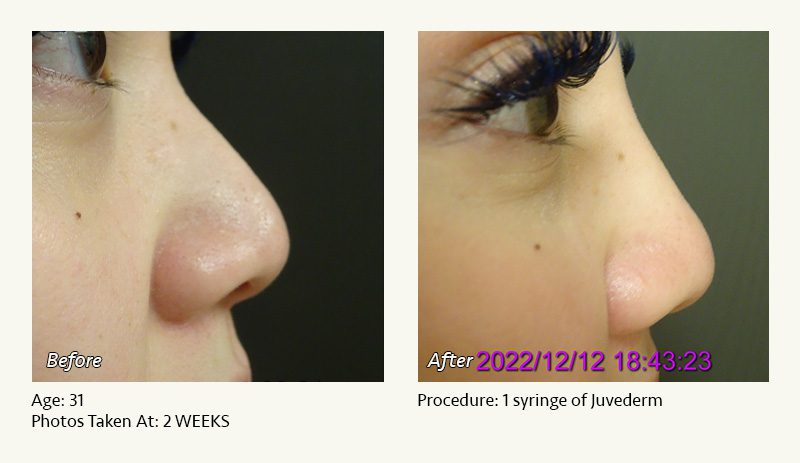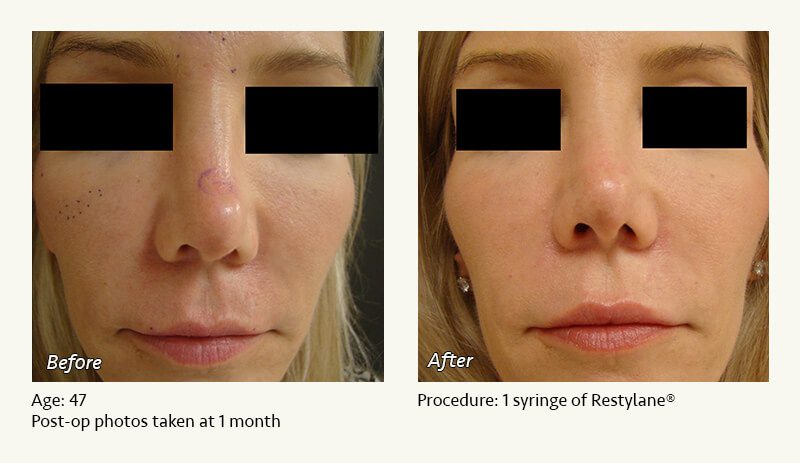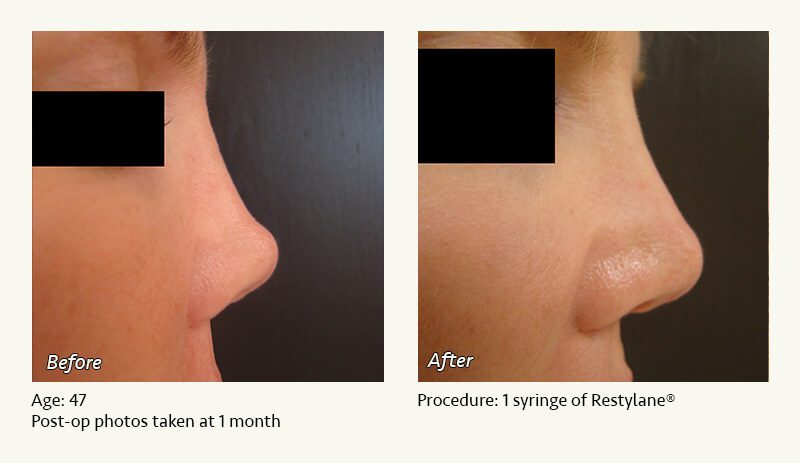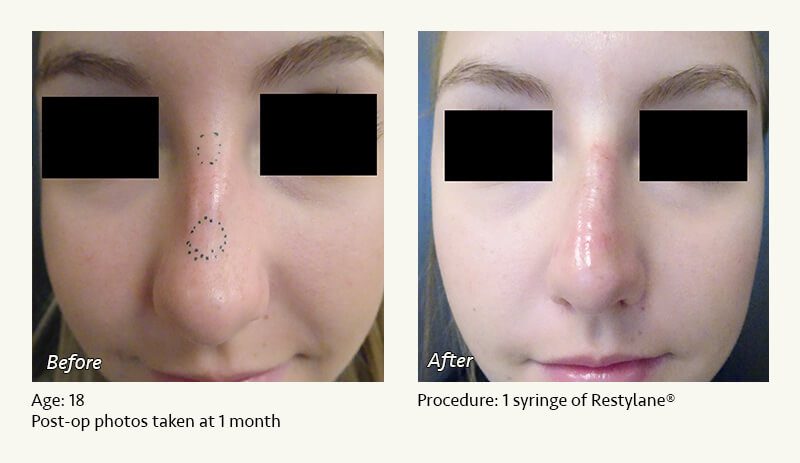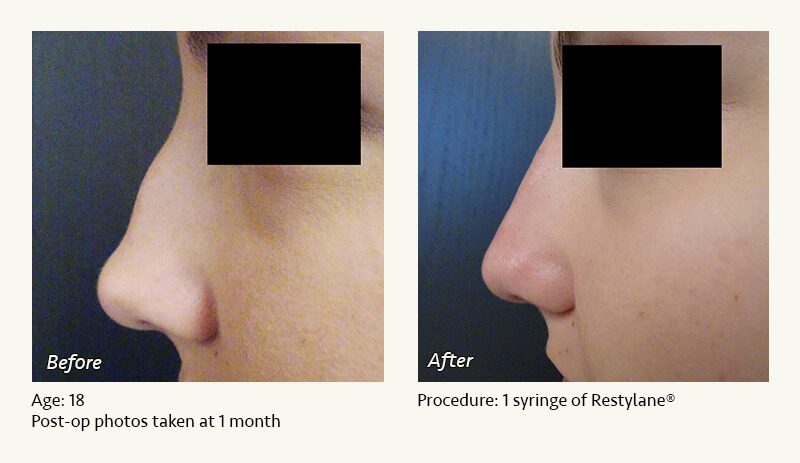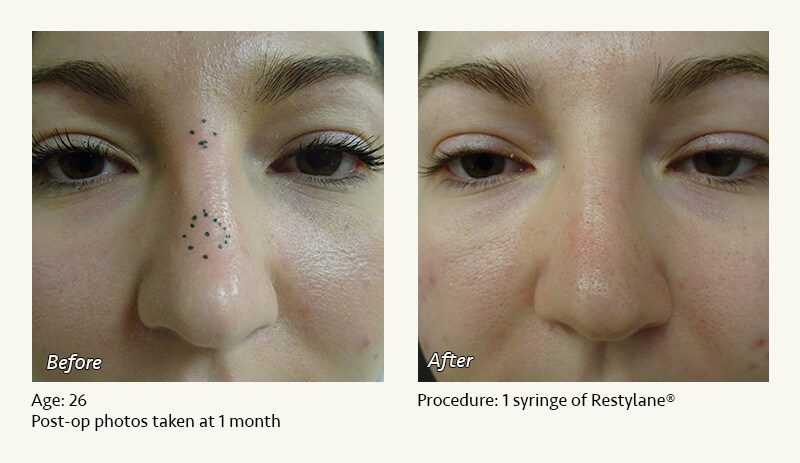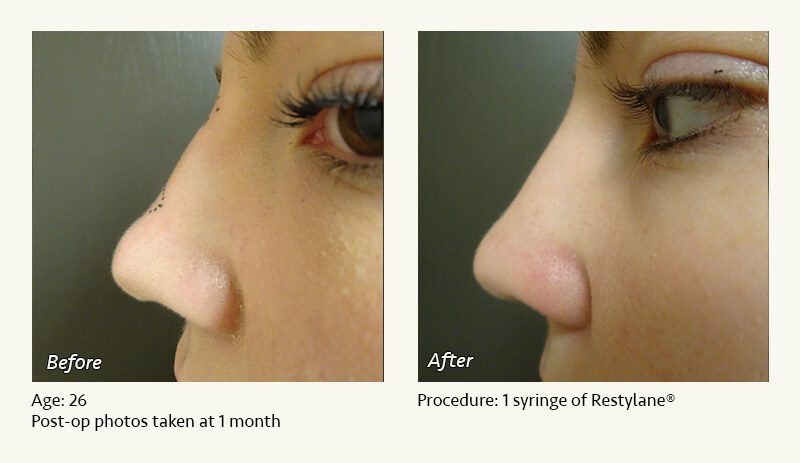 What is the difference between nonsurgical rhinoplasty (Restylane) and surgical rhinoplasty (nosejob)?
---
Nonsurgical rhinoplasty
Adds volume in selected areas
Minor change
Temporary (about 6 to 9 months)
Inexpensive (typically $590)
Surgical rhinoplasty
Usually reduces volume
Major change
Permanent
Expensive (about $10,000)
The keys to nonsurgical rhinoplasty are an understanding of the nasal anatomy and attention to detail. That is why Dr. Friedman personally performs all facial injections in his practice, including all nonsurgical rhinoplasties. For relatively large changes, such as adding volume to the nasal bridge, one syringe of Restylane is required. For small changes, such as camouflaging a nasal hump, a portion of the syringe may be available for injection elsewhere in the face (such as the lips or nasolabial folds) at no additional charge. To maximize your comfort, we apply a potent numbing agent to the nose prior to the procedure. Results are apparent immediately following the procedure and typically last 6 to 9 months. To reduce the risk of bruising, you should avoid lying flat on your back or performing exercise for several hours after the procedure.
Q & A
---
Is nonsurgical rhinoplasty as precise as surgery?

The nonsurgical rhinoplasty involves injection of filler material one drop at a time. This makes the procedure not just precise but arguably more precise than surgical rhinoplasty.

Can you improve the nasal tip with nonsurgical rhinoplasty?

No. The upper and middle third of the nose can be improved, but the nasal tip skin is too thick to adjust with fillers.

Why use Restylane, instead of another filler?

Dr. Friedman has experience with multiple facial fillers. Restylane tends to stay exactly where it is placed and is the most appropriate filler for nonsurgical rhinoplasty. Juvederm is excellent for lips and soft contours–but inappropriate for nonsurgical rhinoplasty– because it spreads away from the injection site. Restylane Lyft and Voluma are too thick for the fine contours of the nose.

Can I purchase one syringe of Restylane and use part of it in my nose and part elsewhere?

Yes. Frequently nonsurgical rhinoplasty requires less than one syringe. Any "leftovers" can be injected elsewhere.
Nonsurgical Rhinoplasty Instructions
---
One week before your appointment:
Do not take aspirin-containing products, as these may increase your risk of bruising. Use extra-strength Tylenol for any headaches or other minor pains.
Please notify Dr. Friedman's staff if you become sick with a fever, significant cough, etc. If necessary, your procedure can be rescheduled to a time when you are feeling better.
To reduce the risk of bruising, you may wish to start taking Arnica Montana a few days prior to the procedure. Arnica is available through our office or your local health food store.
At home after the procedure:
You may wish to apply ice to the injected areas to minimize any bruising.
Do not perform exercise activities for at least 8 hours after your procedure.
You may gently massage the injected areas to reduce any "lumpiness."
The areas will gradually soften and become more uniform over the next few weeks.
Please feel free to ask Dr. Friedman or his staff about any additional questions or concerns. Or call into our office to schedule a consultation with Dr. Friedman in Plano, Texas.