Posted June 25, 2018 in
Following FDA restrictions on silicone gel implants in 1992, saline implants were the only available devices for breast augmentation in the U.S. until the approval of silicone gel in late 2006. Unfortunately, most breast implants do not last as long as the women who possess them. If you have undergone or are considering breast enlargement, recognize that at some point in your lifetime, you will probably experience implant failure (deflation of saline breast implants or rupture of silicone gel breast implants) requiring reoperation for implant replacement.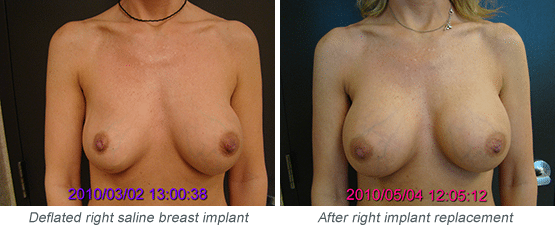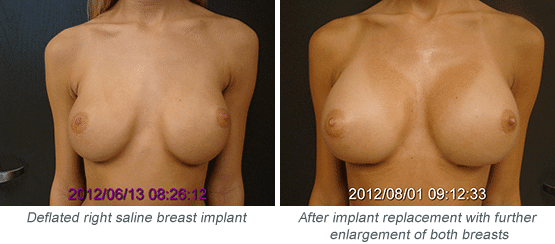 How will I know whether my saline implant has deflated?
Because saline implants are filled with salt water, any leakage will be absorbed by your body. Complete deflation may take a day or two (if there is a large hole in the implant shell) or could take weeks or months (with a smaller leak). Signs of deflation include: reduced breast size, reduced firmness of the breast (which may feel soft or "squishy"), and reduced fullness of the upper breast. These findings are generally gradual and progressive. So if you're not sure whether you have a deflation, look again in a few days or a week. If your breast looks and feels the same, you probably don't have a deflation. But if it continues to lose fullness and firmness, you should definitely see a plastic surgeon. We serve the Plano, Frisco, Allen, Colleyville, Las Colinas, and Irving communities.
Is a leaking saline implant dangerous?
While there remains some controversy regarding the safety of ruptured silicone gel implants, we can definitively state that saline implant failure is NOT dangerous. Saline implants are filled with the same saltwater solution used in IV fluid. In fact, the implants are manufactured as empty shells, and we actually fill the implants with sterile IV fluid during surgery. If a saline implant deflates, you will be better hydrated—and that's about it.
Who pays for the implant replacement surgery?
Both FDA-approved saline implant manufacturers, Allergan and Mentor, provide ten year warranties on their devices. Unfortunately, these "standard" warranties only cover a portion of your surgical fees; the rest will come out of your pocket.
Unlike most plastic surgery practices, we purchase a platinum-plus warranty for all of our primary breast augmentation patients; the cost of this is included in your surgical fee. This warranty will cover our entire fee (surgeon, M.D. anesthesiologist, nationally-accredited surgery center on the campus of Texas Health Presbyterian Hospital of Plano, a new saline implant, postoperative visits) for any deflation that occurs within ten years of your initial surgery. If you experience a deflation after ten years, the manufacturer will still provide a replacement implant for free, but they will not pay the other surgical costs.
How soon do I have to have implant replacement surgery done?
While a deflation is not an emergency, it is important to have implant replacement surgery done as soon as possible, ideally within a couple weeks of the deflation. Capsular contracture, or excessive firmness of the implants, is a risk of an untreated deflation. Since "nature abhors a vacuum," the capsule of scar tissue (which normally forms around the implants) may tighten following a deflation, requiring a more difficult surgery than implant replacement alone.
Is the breast implant replacement surgery as difficult as the original breast augmentation?
If there is simply an implant deflation, the replacement surgery is generally straightforward and involves relatively little pain. If there is a capsular contracture requiring release (capsulotomy), then the surgery may be more involved.
If I have to replace a deflated implant, can I get bigger implants at the same time?
Many women choose to have larger implants placed while they are undergoing removal and replacement of a deflated implant. If your implant is under warranty, the manufacturer will cover the costs for one breast surgery, and you will cover the other.