Posted March 06, 2019 in Breast Augmentation
Board-certified plastic surgeon, Ronald M. Friedman, M.D., has been performing breast augmentations for over 20 years. He averages about 130 breast augmentations annually (about four times the number performed by most plastic surgeons). The average plastic surgeon performs about 30 to 35 breast augmentations annually. He combines his surgical skills with an artist's vision in an effort to provide his patients with the results they desire.
How Do I Choose the Right Surgeon for Me?
The best way to evaluate a surgeon is to look at his surgical results. As a specialist in breast and body contouring, Dr. Friedman strives to achieve natural and proportionate breast enlargement results. Remember that the single greatest factor determining the appearance of your breasts after augmentation is the appearance of your breasts before augmentation. As you view the photos below, notice that a woman's breast shape changes very little with augmentation. The primary changes are increased breast size and increased fullness of the upper breasts.
Breast Augmentation with Saline Implants
Implant size: 330 cc implants; Incision: Inframammary fold
Estimated size change: 34B to 34C  Height and Weight: 5'7″, 119 lbs
Before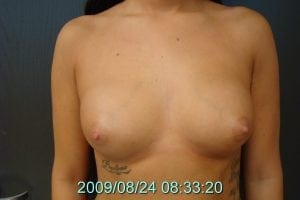 After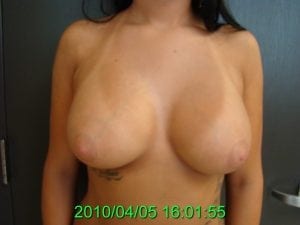 Breast Augmentation with Saline Implants
Implants: 420 cc implants Incision: Inframammary fold
Estimated size change: 36B to 36D  Height and Weight: 5'9″, 140 lbs
Front View
Before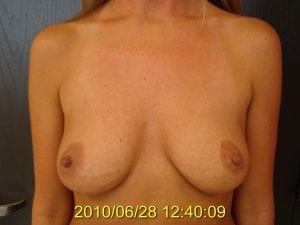 After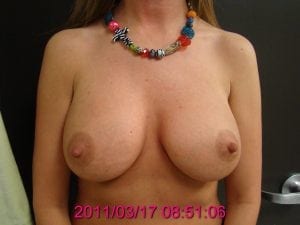 Side View
Before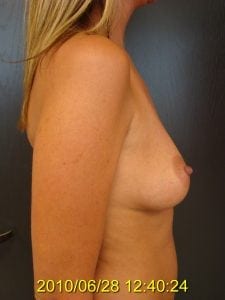 After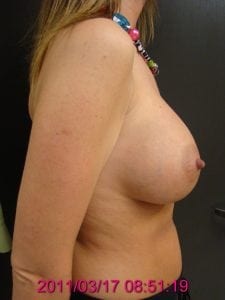 Breast Augmentation with Saline Implants:
Implant size: 330 cc implants Incision: Inframammary fold
Estimated size change: 34c to 34D Height and Weight: 5'4″, 122 lbs
Front View
Before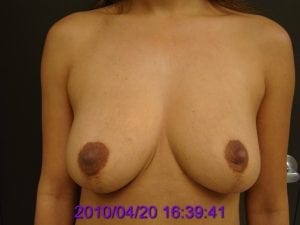 After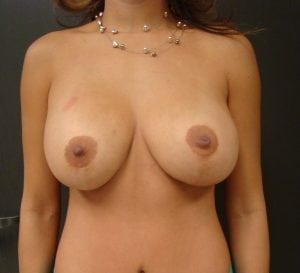 Side View
Before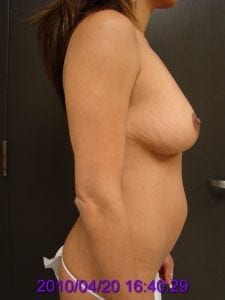 After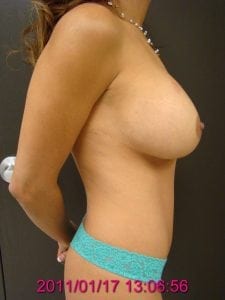 Breast Augmentation with Saline Implants
Implant size: 360 cc implants Incision: Inframammary fold
Estimated size change: 34 small B to Full C  Height and Weight: 5'4″, 130 lbs
Front View
Before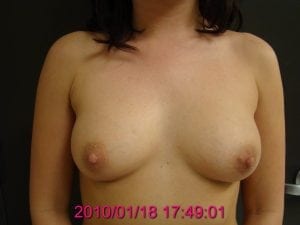 After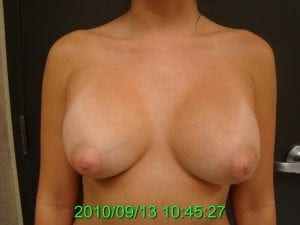 Side View
Before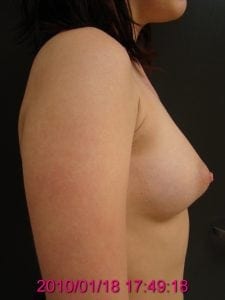 After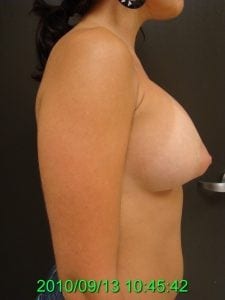 Breast Augmentation with Saline Implants
Implant size: 360 cc implants Incision: Inframammary fold
Estimated size change: 34B to 34 Full C Height and Weight: 5'0″, 95 lbs
Front View
Before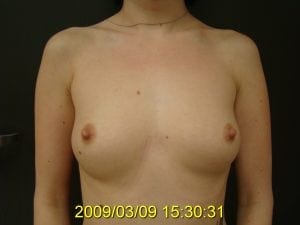 After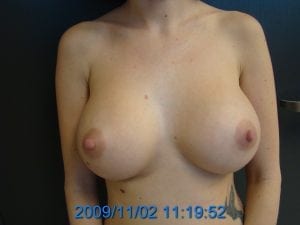 Side View
Before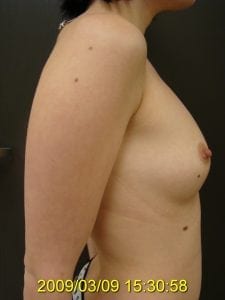 After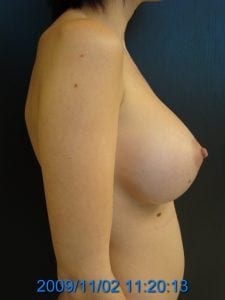 Breast Augmentation with Silicone Gel Implants
Implant size: 421 cc implants Incision: Inframammary fold
Estimated size change: 32B to 32C Height and Weight: 5'5″, 120 lbs
Front View
Before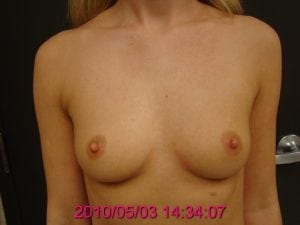 After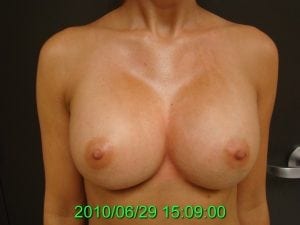 Side View
Before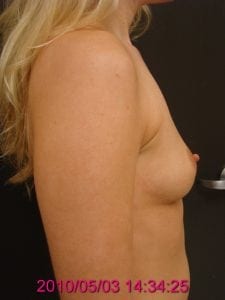 After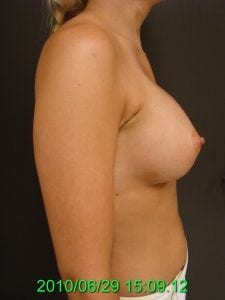 How Do I Get the Look I Want?
Most of the women who consult with Dr. Friedman regarding breast augmentation are usually (and justifiably) very concerned about maximizing cleavage with the procedure. These are the factors that determine the amount of cleavage following breast implant placement:
Figure 1:

Figure 2:

Your anatomy
Regardless of your breast size, you can probably look at your breasts in the mirror and see whether they are close together (Figure 1 above) or far apart (Figure 2 above). The distance between your breasts before surgery strongly influences the distance between your breasts after surgery.
Implant Size
In general, larger implants create more cleavage than smaller implants. More specifically, implants with a larger diameter extend closer to the midline than those with a smaller diameter.  If cleavage is a major priority, then use the largest implant with which you are comfortable.
Surgical Technique
Dr. Friedman routinely places first-time breast implants under the pectoralis major muscle for a variety of reasons. Having done this operation over 2000 times, he has noticed that the pectoralis major muscle has an outer leaflet (further from the midline) and an inner leaflet (closer to the midline). He frequently divides the outer leaflet to maximize cleavage—while preserving the integrity of the inner leaflet.
Remember that cleavage is just one of several factors that determines the success of your breast augmentation procedure.
How Much Does Breast Augmentation Cost?
Total surgical cost for breast enlargement is $5850 for saline implants and $6950 for silicone gel implants. While Dr. Friedman's price may be about average for the Dallas, Frisco, and Plano areas, his commitment to your care is anything but average. Look carefully at what is included in the surgical fee:
Surgeon's Fee
Dr. Friedman is committed to personally performing every part of every surgery. He does not assign any portion of the surgery to physician's assistants or "sewing assistants."
Anesthesiologist's Fee
Dr. Friedman exclusively uses physician anesthesiologists, rather than nurses, to provide general anesthesia. He believes that their extensive training and expertise enhance patient comfort and safety.
Facility Fee
The West Plano Plastic Surgery Center is a nationally-accredited surgery center located on the campus of Texas Health Presbyterian Hospital of Plano. Founded by Dr. Friedman in 2000, the Center strives to provide convenience, comfort, privacy, and safety.
Saline Breast Implants
Allergan manufactures the Natrelle® breast implants that Dr. Friedman most frequently utilizes. We occasionally use breast implants from Mentor®, a subsidiary of Johnson & Johnson. Allergan and Mentor® manufacture the only FDA-approved breast implants in the United States. Silicone gel implants are also available at an additional cost.
Extended Implant Warranty
As part of his commitment to his patients, Dr. Friedman purchases an Allergan Confidence Plus® Platinum Warranty for all primary breast augmentation patients. This warranty will cover up to $2400 in costs for an implant deflation that occurs within 10 years of surgery. Translation: if your implant deflates within the first 10 years of surgery, Dr. Friedman will replace it without cost to you. The inclusion of this warranty (above and beyond the standard manufacturer's warranty) is rare among plastic surgeons.
All Postoperative Visits
Rather than deferring your postoperative care to a nurse or medical assistant, Dr. Friedman personally evaluates patients at one week, five weeks, and seven months after surgery. Additional visits may be scheduled for any questions or concerns. There is no charge for routine postoperative care.
Am I Too Old for Breast Augmentation?
According to the American Society of Plastic Surgeons (ASPS), breast augmentation ("augmentation mammaplasty") has been the top cosmetic surgical procedure in the country since 2006. And these days, it isn't just 18 year-olds getting breast implants as a high school graduation gift. Middle-aged women, as well as those approaching senior citizen status, are visiting plastic surgeons for consultations regarding their options on how to enhance their shape.
Dr. Friedman meets with patients ranging from their late teens to their early 60s. Although he has not noticed a huge increase in older patients choosing to undergo cosmetic surgery, he has noticed that there is a shift in the trends regarding procedures. In the past, the focus was predominantly on the face and attaining a more youthful-looking appearance through such procedures as facelift surgery and eyelid lift surgery. He realizes that now women are interested in enhancing their overall appearance, including the desire to undergo augmentation with saline or silicone gel breast implants. Typically, those who are 50+ and interested in enlargement surgery are not new to this procedure. It is more likely that they are going in for a secondary procedure—opting for an implant exchange due to sizing, changing the type of implant, correction of a complication, or having a breast lift performed. According to Dr. Friedman, there are also women who have come out of life-changing experiences (such as divorce or the death of a spouse) and would like a makeover, which may influence their decision to undergo breast enlargement surgery for the first time.
Will My Age Affect My Recovery?
The biggest concern among plastic surgery critics revolves around age, asking if older Americans are able to safely undergo a procedure such as breast augmentation. There is also a concern regarding recovery, and whether or not older patients heal more slowly than younger patients. According to Dr. Friedman, there is no major difference. In order to qualify for plastic surgery, an individual must be physically and psychologically healthy, have realistic goals and expectations, and have reasonably good skin elasticity. For prospective patients over 50 years old, the preoperative work-up plays a decisive role in whether or not they are able to go forward with an operation. "We need to have them undergo an EKG and do the necessary blood work. If there are any major medical concerns, we need to get clearance from their physicians," says Dr. Friedman. Therefore, if an older woman qualifies for breast implants and is in good condition medically, the surgery will not pose a significantly greater risk than for a younger patient.
The timeframe regarding when a patient can return to work and daily activities is the same among all breast augmentation patients. In fact, Dr. Friedman points out that there are two areas where age has its advantages. The first is postoperative pain. Due to having experienced body changes that may have been painful, such as childbirth and medical surgeries, the pain threshold amongst those in their 40s, 50s, or 60s is usually higher than that of an 18-year-old. Dr. Friedman also notes that his older patients tend to heal with less scarring. He states, "As we age, we form less of an inflammatory response to trauma, including surgery. This translates to flatter, less conspicuous scars on average in older patients."
Do I Need to Wear A Bra After Breast Augmentation?
When a patient comes in and asks if she needs to wear a bra after breast augmentation surgery the basic answer is no. Then yes. And then maybe.
What are we talking about?
No
Right after surgery, Dr. Friedman does not have his breast augmentation patients wear a bra. Why not? Because he is obsessive about making sure that there is absolutely no bleeding before he finishes surgery. Therefore, compression of the breasts with a bra or ACE bandage is unnecessary—and probably quite uncomfortable. In addition, your implants will start out too tight and too high. If your breasts are already too tight and high, they really don't need the additional support of a bra.
Yes
Within the first several weeks after surgery, your implants will settle to some degree. Once they look as if they "belong" on you (and no longer look "funny"), you should begin wearing a bra close to 24/7 (yes, that means sleeping in it too). Ideally, you should wear a sports bra that fastens in front and has no underwire. The bra should be worn at all times until you are six months post-op.  Why six months? Your body will form a capsule of thin scar tissue surrounding the implant that will take approximately six months to mature.
Maybe
Once the capsule surrounding your implants matures, it acts as an "internal bra," supporting the implants. If you had minimal breast tissue prior to surgery, regular use of a bra may no longer be required. On the other hand, if you had a moderate amount of breast tissue before surgery, you may still want to wear a bra (but not 24/7), since the capsule will only support the implants and not the overlying breast tissues.
These are just some of the questions patients ask Dr. Friedman. If you have any other questions, or you would like to schedule a consultation, contact our office online or call us at (469) 467-0100.