In the News
Making Music Again: Rebuilding a Hand and a Career
NuImage, Autumn 2001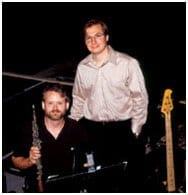 As Steve was completing the woodworking project, something terrible went wrong. The router jammed, thrusting his right hand into the razor-sharp blade that spun at 18,000 rpm. His hand was devastated. And his career as a professional musician was equally devastated.
Steve Pettey was born to be a musician. His mother played the viola, and his father was a trombonist. He began playing the oboe and various woodwind instruments very early in life. By age 14, he played for the Huntsville Symphony and the Ringling Brothers Circus. Steve met Cinde, his wife of 19 years, while in their high school youth orchestra. Subsequently, they attended the University of Southern Mississippi together and majored in music. As you might expect, their children, Sarah (16), Gordon (13) and Earl (11), share their parents' love of music.
In his free time, Steve enjoyed making furniture for his family and friends. Although he knew that woodworking posed a danger to his hands, everything had always gone smoothly … until now.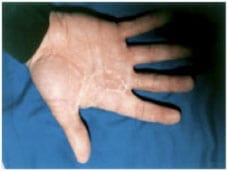 After his injury on May 7, 1997, Steve was rushed to North Texas Medical Center and subsequently transferred to Medical Center of Plano. There he met plastic surgeon, Ronald M. Friedman, M.D. Like Steve, Dr. Friedman is also a musician and a woodworker. "I felt terrible for Steve because I knew the same injury could have easily happened to me. And based on the severity of the injuries, I told him that his musical career was probably over." Dr. Friedman performed a nine hour microsurgical procedure to restore function to Steve's mangled hand. He mended broken bones, repaired ligaments and tendons, transferred skin to multiple open wounds, and grafted nerves from Steve's ankle to replace the injured nerve segments in his hand. One week later, Steve was released from the hospital. He began the arduous task of relearning how to use his right hand through physical therapy. The process began slowly and painfully with minimal motion and essentially no sensation in the injured fingers. But Steve was not about to give up on his hand or career. He suprised his hand therapists with his almost-daily progress. Five weeks after his injury, Steve tried playing his oboe and saxophone, using modified hand controls. At that point, he knew that nothing could stop him from making music again. His first professional outing was as an orchestra musician for the Dallas Wind Symphony on July 4th weekend, less than two months after his accident. In September, he played the Dallas Summer Musical's production of Beauty and the Beast. Dr. Friedman attributes Steve's success to "good luck, good attitude, and sheer will power."
But just as Steve began to rebuild his career, tragedy struck again. Steve's son, Gordon(then age 9), began to experience unexplained headaches and vomiting. After extensive testing, he was diagnosed with medulloblastoma, a potentially lethal brain tumor. Gordon underwent brain surgery, 6 weeks of radiation therapy, and a year of chemotherapy in an attempt to save his life. Steve's days consisted of retraining his hand each morning in physical therapy, playing music nightly to support his family, and visiting his son in the Intensive Care Unit at the Dallas Children's Medical Center after each nightly show.
Fortunately, this story has a happy ending. Today Gordon is a healthy 13 year-old whose cancer has been cured. He plays the violin and is learning to play the bagpipes. Steve's career is, amazingly, back on track. Steve has also resumed woodworking, albeit quite carefully: "I got rid of that other machine." His most recent accomplishment is a 15 foot wooden canoe. Dr. Friedman has subsequently performed two more surgeries to further improve the function of Steve's right hand. In his typical understated fashion, Steve says the hand "looks a little beat up, but seems to be working just fine." So, the next time you listen to a performance of the Texas Chamber Orchestra, Plano Symphony Orchestra, Dallas Wind Symphony or the Dallas Summer Musicals and hear the sound of an oboe, remember that you are witnessing the talents of Dr. Ronald Friedman as well.