Posted January 13, 2012 in Body, Home, Plastic Surgery
Tummy tuck (abdominoplasty) is an excellent option for many women who have experienced stretched-out, hanging skin, excessive fat, and laxity of the abdominal wall following pregnancy and/or major weight loss.  One major downside of the procedure: it hurts.  Specifically, cinching in the abdominal wall by 4 or 5 inches can be very uncomfortable.
How do we best control the pain and ease your recovery?  Unlike many surgeons in the Plano/Frisco area,  I provide a pain pump for all full tummy tuck patients.  This looks essentially like two very thin ( a few millimeters) epidural catheters that enter the upper abdomen .  Marcaine, a long-acting local anesthetic, is dripped through the catheters onto your abdominal wall for about 72 hours after surgery.  Although you will still require oral pain medication, the pain pump significantly reduces the discomfort associated with tummy tuck.  In most cases, this means that you can go home a few hours after surgery.  In addition, the manufacturer we use, Accufuser, allows a bolus feature; this means that , if you need it, you can push a button to give yourself an extra dose of local anesthetic at home.
Recovering from a tummy tuck is no fun; but a pain pump makes it much more tolerable.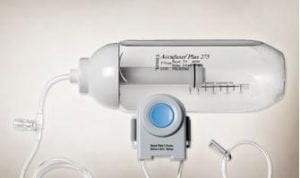 Accufuser pain pump