Posted July 02, 2018 in
by Dr. Ron Friedman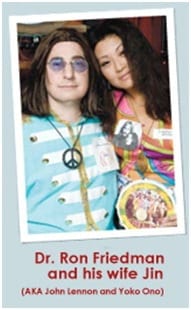 Trick or Treat? For hundreds of children born with facial deformities in underprivileged countries, life is anything but a treat. But Plano plastic surgeon Dr. Ron Friedman came up with a trick: scare up a night of music and Halloween fun, all in the name of charity.
A confessed board certified plastic surgeon during the week and musician on the weekends, Dr. Ron Friedman hosted a Halloween costume party on Oct. 28 at Glen Eagles Country Club and recorded a CD entitled "Illusions" to sell for donations at the event. Around 100 guests attended the event, which raised about $7,000 for The Smile Train, the largest worldwide organization that provides free surgical repair for children from poor countries who have cleft lips and palates.
For the last few years, Dr. Friedman has spent his weekends recording "Illusions," which includes primarily pop and rock music, and was looking for a way to creatively combine the release of his CD, while raising money for medicine and a cause he believes in. "Plastic surgery has been very good to me, and so it seems only reasonable that I try to help other people," Dr. Friedman said.
"My wife and I have been wanting to do some mission work – go to other countries and perform free surgery for the underprivileged kids – and we are planning to go on one of these trips next year, and I'm releasing the CD, so we decided to combine everything. We combined the Halloween party, CD release and charity fundraising event to raise money for The Smile Train." said Dr. Friedman.
"I think it's kind of cool that I'm able to take these completely divergent things and figure out a way of bringing them together and helping some people in the process".
Playing piano and writing music has been an integral part of Dr. Friedman's life for the past 30 years. He began playing the piano when he was 8 years old, and by age 10, won a California statewide music contest for youths. At age 13, he made studio recordings of several songs, which were performed in local nightclubs in southern California.

"I wanted to be a professional songwriter and actually made a demo recording of some songs I'd written when I was about 14 and went around to agents to try to sell them, but couldn't get anybody to bite," Dr. Friedman said. "So I gave that up and said, 'Well, I guess I better get a real job,' so I ended up going into plastic surgery."
So he got sidetracked – for about 20 years. He finished college in two years, graduated from medical school with honors, completed an accelerated surgical training program and joined the plastic surgery faculty at the University of Texas Southwestern Medical Center in Dallas.
But Dr. Friedman never lost his dream of becoming a songwriter. A few days after the 9/11 tragedy, he channeled his emotions and energy back into music. In just a few hours, he wrote "America," a poignant tribute to the nation's strength in a time of national crisis. Within a month, he was featured as the live musical guest on the Fox 4 Television Good Day Show in Dallas. He was later invited to play "America" to introduce an important speech by former New York City Major, Rudolph Giuliani. In 2003, he performed the song live for a crowd of 17,000 in San Antonio for a state Republican convention. Dr. Friedman donated the proceeds of several thousand dollars from the CD sales to the American Red Cross.
After the success of "America," Dr. Friedman went on a songwriting rampage. The resulting "Illusions" CD features 17 (of the more than 40) songs that he has written since 2004. Dr. Friedman co-produced the CD with internationally acclaimed composer and producer, Julius Dobos.
About Dr. Friedman
Dr. Friedman specializes in cosmetic and reconstructive surgery of the breasts, body, and face. In private practice since 1996, he formerly served on the plastic surgery faculty at University of Texas Southwestern Medical Center in Dallas where he was the chief of plastic surgery at Parkland Memorial Hospital.
Dr. Friedman has published articles widely in the leading plastic surgery journals, has authored numerous textbook chapters, has been featured on multiple television and radio broadcasts, and has lectured nationally and internationally. He is the recipient of awards from the Texas Society of Plastic Surgeons, the American Society of Plastic Surgeons, and the American Society for Aesthetic Plastic Surgery.
He has acted as an instructional lecturer on behalf of the American Society of Plastic Surgeons, teaching plastic surgery techniques in Dallas, San Antonio, Los Angeles, San Francisco, San Diego, New Orleans, Orlando, Boston, Philadelphia and Montreal. A gifted wood and marble sculptor, Dr. Friedman's work has been displayed in several galleries and is part of many private collections.
Dr. Friedman attended Northwestern University in Chicago for his undergraduate and medical school education, where he was selected for the accelerated Honors Program in Medical Education. He graduated in the top 10 percent of his class and was elected to the Alpha Omega Alpha Medical Honor Society. He completed his general surgery and plastic surgery training at the University of Texas Southwestern Medical Center in Dallas. He subsequently completed an additional year of fellowship training at Loma Linda University Medical Center in southern California.
Dr. Friedman is certified by the American Board of Plastic Surgery and is an active member of the American Society of Plastic Surgeons, American Society of Aesthetic Plastic Surgery and the Texas Society of Plastic Surgeons. He has been recognized nationally for his research and hand surgery. In 1996, he established his private practice and opened an office in Plano. He is the director of the West Plano Plastic Surgery Center, an AAASF-accredited surgery center on the campus of Presbyterian Hospital of Plano. He also maintains admitting and operating privileges at Presbyterian Hospital of Plano, Trinity Medical Center, Medical Center of Lewisville and Medical Center of Plano.
He was also selected as a Texas "Super Doctor" by Texas Monthly magazine in 2004, 2005, and 2006 (awarded to fewer than 5 percent of Texas physicians) and named "Best Doctor" in Dallas by D Magazine.
A southern California native, Dr. Friedman lives in Plano with his wife and two children. He enjoys wood and marble sculpture, songwriting, piano, traveling and skiing.
The Smile Train
The Smile Train provides free cleft surgery for poor children in developing countries, such as Ethiopia, Inner Mongolia, Rwanda, India and Nepal where millions of people live on as little as 15 cents a day. The organization also provides free cleft-related training for doctors and medical professionals.
Over the past seven years, the organization has provided free cleft surgery for nearly 200,000 children. These children were suffering not because they were born with cleft, but because they were born too poor to afford surgery. Being born with a cleft in a developing country is truly a curse. In fact, every baby born in Uganda with a cleft is given the name Ajok, which means "cursed by God." Some are abandoned, and most can't eat or speak properly, aren't allowed to attend school or hold a job and face difficult lives filled with shame, isolation and heartache.
The children with clefts who are lucky enough to find a Smile Train free cleft surgery program, not only survive, they thrive. The surgery takes as little as 45 minutes, costs $250 and gives children a second chance at life that they never thought they would get.
Many of the children, such as 11-year-old Yi Yun, who have benefited from The Smile Train's free surgical work, are featured on the organization's Web site, www.smiletrain.org.
Yi Yun China
In her first 11 years, Yi Yun faced a lifetime of heartbreak and disappointment. Because of her cleft, her parents abandoned her soon after she was born. Adopted by her uncle, Yi Yun Lives in a home where grinding poverty requires her to work hard. School was never an option. Her cleft greatly affected her speech and made it almost impossible for her to communicate. The children in her village taunted and teased her.
One day, she received news that she had been chosen to receive free surgery from The Smile Train. Since the surgery, her life has truly changed. For the first time in her life she can go to school, and speech training is helping her learn how to speak properly. One of her first words after was a heartfelt "thank you" to her surgeon.
You Too Can Help
"One of the good things about The Smile Train is that it's a volunteer organization," said Dr. Friedman. "One hundred percent of the donations go toward programs that help children as opposed to some charities where 40 percent comes off the top for administrative costs."
Since Dr. Friedman's Halloween party, he is continuing to sell his CD through his office. All of the money raised goes directly to the charity. If you're interested in reading the lyrics and hearing portions of the songs, go to www.illusionsdelusions.com. If you are interested in obtaining the Illusions CD, copies are available through Dr. Friedman's office at (469) 467-0100. For more information about Dr. Friedman, go to www.https://www.plasticsurgerydallas.com
Like his songs, Dr. Friedman's musical influences are quite varied. They include Elton John, Phil Collins, Aerosmith, Rob Thomas, Tim McGraw, Nora Jones, Josh Groban and Kelly Clarkson. Many of the songs on his CD are autobiographical:
He Wrote: "Sooner or Later" about a psychotic woman whom he had the misfortune to date briefly many years ago. The lines that best sum up the relationship (from her standpoint): "I just want to be close to you…to keep you safe and sound. But you don't want to be close to me…so I swear to you, I'm gonna hunt you down."
"Forever in Your Eyes" is an upbeat love song written for Dr. Friedman's wife, Jin. Strangely, he said, she seems to like "Attitude," a song he wrote following an argument, even better: "Instead of giving me gratitude, all you give me is…attitude."
A few years ago, the Friedman's 115-gallon saltwater aquarium failed catastrophically, forcing them to leave their house for four months. "After I finished feeling sorry for myself, I wrote the gospel-inspired 'Surrounded by Your Love,'" he said.
Wondering, as many people do, abut his purpose in life, he wrote the existential hard rock song, "Why Am I Here?" And "The Forest" is about the environmental destruction that continues despite great efforts at preservation.
"My basic goals are number one, to continue to raise money and awareness for The Smile Train, number two, go on a mission trip to help kids there and hopefully do that on a regular basis and number three, hopefully get my music distributed and known".