Posted July 02, 2018 in
Dallas Morning News, October 17, 2008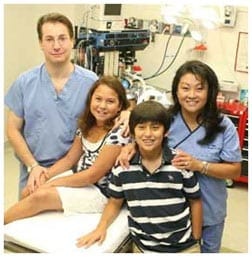 From the moment Dr. Ron Friedman shook her hand, nurse Jin Young Oh knew something was very special about this doctor. Jin was a trauma and surgical ICU nurse at Parkland Health & Hospital System when Ron took the time to introduce himself in August 1990. "It was out of the ordinary from the other surgeons," says Jin. "It made an impression on me. The weird thought I had in my head was, 'What if I end up marrying this guy?' I just remember shaking it off."
As they worked together, Ron says, they became a team; he could count on Jin. "She was competent enough that I knew if she was taking care of my patients, I'd actually get an hour or two of sleep. For a resident, that's like six hours," says Ron, who was a second-year resident in general surgery then.
Ron asked Jin out in October 1991, but he broke the date three times to tend to sick patients. "She researched each of my excuses to make sure they were valid," he says. "She got confirmation, so she gave me a fourth chance." They had a romantic Italian dinner at Nero's on Lower Greenville. Then Ron played the piano for Jin at an SMU practice room, winning points when he could play any tune she requested.
By the next spring, marriage was imminent. Ron loved that Jin laughed at his jokes, was beautiful, intelligent and confident. And Jin had grown to love Ron's honesty, sincerity and integrity as she watched his gentle care for his patients.
But there were complications. Because Ron is Jewish and Jin is a Southern Baptist-raised Korean, there was a bit of tension when they told their families. That eased over time as the families got to know each other.
Jin's last relationship had strung along seven years, so she had made a vow to herself to move on after a year. "She came up one day and said, 'So, are we getting married or not?' … It was a little overwhelming that I had to decide my entire career and marriage all in one month," says Ron, 42. "No pressure there."
On an otherwise uneventful night in April 1993, Ron and Jin were going to their favorite all-you-can-eat Szechuan buffet when Ron popped the question in the parking lot. Jin thought he was kidding; then she realized he wasn't.
To celebrate their engagement that summer, Ron and Jin had a Korean wedding, complete with traditional silk garb and a tea ceremony. Then, in a traditional Jewish wedding, Ron and Jin were married Sept. 12, 1993, at the Dallas Civic Garden Center in Fair Park.
Son Andrew was born on April 10, 1997. Daughter Rachel followed on Sept. 13, 1998. Ron and Jin have made it a point to teach their children about their heritage. They love Korean food and go to Hebrew school.
Ron and Jin's exceptional working relationship continues. Ron says he's in awe as he watches Jin juggle so many tasks at his practice at the West Plano Plastic Surgery Center.
"We pretty much think the same thing at the same time nowadays," says Jin, 45