Posted September 24, 2010 in BOTOX® Cosmetic and Dysport®, Face, Home
Botox and Dysport are FDA-approved products for reducing facial wrinkles.  They work by temporarily blocking the nerve signals that tell muscles to contract.  If, for example, you don't contract muscles between your eyes, then you don't have vertical wrinkles between the eyes.
Botox and Dysport injections take about 5 minutes to perform and last about 3 to 4 months.  We usually use ice to numb the areas, though we have laughing gas for patients who prefer it.
Unlike many other physicians, I personally perform all Botox and Dysport injections.  The injection sites and dosages are tailored to each patient, since no two people have the same wrinkling pattern.  I also pre-mark and photograph each injection site.  This attention to detail helps to make the results more consistent and reproducible with each subsequent visit.
We charge $325 for the first syringe, $300 for the second syringe, and $275 for the third syringe.  Each syringe contains 25 units of Botox or 60 units of Dysport. Please call our office at (469) 467-0100 for any current manufacturer rebates, which may further reduce the price.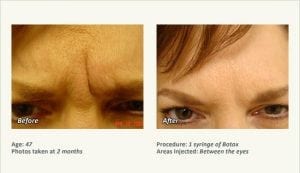 For more information, including before / after Botox photos, please click here.
To schedule an appointment, please call us at (469) 467-0100 or email us at drfriedman@https://www.plasticsurgerydallas.com
Ronald M. Friedman, M.D.
Certified, American Board of Plastic Surgery
Director, West Plano Plastic Surgery Center
Former Chief of Plastic Surgery, Parkland Memorial Hospital, Dallas